include_once($_SERVER['DOCUMENT_ROOT']."/include/header.php"); ?>
Welcome to South Korea!

Oct/Nov 2000 -- Southeast Asian Tour (2 weeks; 5 days in South Korea, 7 days in Thailand, 3 days in Hong Kong)

After having gone to Japan and yet another Pad Thai meal in Toronto, I was thirsty for more travelling in Asia... Hence, I decided to visit South Korea, Thailand, and Hong Kong for a fall asian whirlwind tour! I got a chance to visit some friends (Rebecca, David, Jenny, and Sherman)... and a real culinary challenge for my tastebuds.

Plus, having started in -5 degrees celsius Korea, then going to +30 degrees in Bankok, and then 15 degrees in Hong Kong... it's a shock I didn't come home with the sniffles.

SOUTH KOREAN CITIES VISITED: Seoul, Kimpo, Traditional Korean Village.
TOP 10 THINGS TO SEE/DO IN SOUTH KOREA
1. Go to the Korean Folk Village and see the traditional farmers' harvest dances and a traditional wedding ceremony (an hour or so from Seoul, easier to book a tour bus)

2. See Korea at night -- notice the glowing red crosses above the churches

3. Eat "Doc" (not dog -- well that's another adventure altogether!) at a street food hut

4. Eat BBQ'd pork, Korean Style!

5. Noyang Jin (Fish Market), Seoul -- a huge and busy place

6. Antique Market, Seoul -- great for traditional gifts!

7. Various Traditional Temples and Palaces, Seoul -- keep an eye out for their gargoyles (very unique).

8. See vendor prepare for the night market in downtown Seoul (I forget the intersection).

9. Eat Kim-chi -- THE korean food to have, if any (caution: it has a lot of garlic and spices)

10. Go shopping in a large Korean mall -- see Korean wedding gown, interesting shoes, and lots of other different styles.


BEST MEMORIES FROM SOUTH KOREA
DOG RESTAURANTS

WALL TO WALL ADVERTISING ON THE OUTDOORS OF THEIR BUILDINGS (EVEN CHURCHES) CHURCHES WITH RED NEON CROSSES

SILVER CHOPSTICKS

THE SMELL OF GARLIC EVERYWHERE (DUE TO THE DAILY INTAKE OF GARLICKY KIM-CHI)

FAST FOOD OUTLETS WITH BBQs IN THE MIDDLE OF SMALL EATING TABLES

A SERIES OF GARGOYLES ON TEMPLE ROOFS

KAREOKE MACHINES THAT TELL YOU HOW GOOD YOU ARE AT SINGING

BEAUTIFUL WEDDING OUTFITS

VERY LONG-TOED SHOES

FARMER DANCE (INTERESTING HEAD GEAR)




FAVOURITE FOODS / DRINKS IN SOUTH KOREA
SO-JU -- #1 Alcoholic Drink Served in Korea (A light-tasting vodka, strong but very pleasant to drink)

RED BEAN FLAVOURING IN ALL DESSERTS (Although Japan has many flavouring varieties for desserts, South Koreans are particularly taken to red beans)

KIM-CHI (Over 140 varieties exist!)

PORK or BEEF BBQ (You bareque right at your table! And then roll BBQ'd meat into lettuce leaves, add kim-chi ontop and you've got yourself a Korean-style sandwich!)

CHOCOLATE COVERED SUNFLOWER SEEDS (Yum!!)

YAM FRIES

ROSE GUM AND COFFEE GUM

DOC RICE NOODLES and RED BEAN SWEET PASTE (street food -- very delicious)




REALLY WEIRD FOOD / DRINKS
(SOME EVEN I COULDN'T GATHER THE COURAGE TO TRY!)
FRIED SILK WORMS (Supposedly it tastes like popcorn -- I didn't have the nerve to try it!)

DOG RESTAURANTS (You don't take your pets to these restaurants! - I didn't try this either)

LIVE BABY OCTOPUS (Koreans eat these two inch long octopus LIVE as a delicacy -- Actually, you must chew it to death before swallowing it, otherwise its tentacles can expand in your throat and choke you)

STEAMED PIG HEADS (You can find these for sale in the street market, but you have to eat them at home -- they're too big to be street food)

DRIED SQUID OR FISH SNACKS (I tried these, but wasn't crazy about the taste)




TRAVEL JOURNAL
South Korea - Part 1
PHOTO GALLERY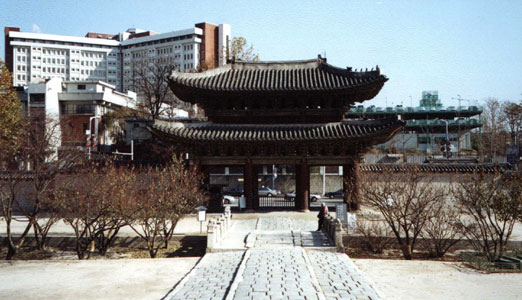 LEARNING KOREAN
For those of you interested in learning Korean, I have returned with some neat catch phrases;

GREETINGS:

Good Morning / Day -- Anyong-hasayo (A-nee-yong-ha-say-yo)

Entering or Leaving a Store -- Anyong-hasayo (A-nee-yong-ha-say-yo)


POLITE PHRASES:

Thank you -- Kam Sahem-nida (Come-sawm-nee-dah)




WHAT WOULD I DO IN SOUTH KOREA WHEN I RETURN?
Spend more time in the Southern Villages
See the large carved Buddha on the inside of a cliff wall


include_once($_SERVER['DOCUMENT_ROOT']."/include/footer.php"); ?>