Chestnut, Bacon & Sage Stuffing Rolls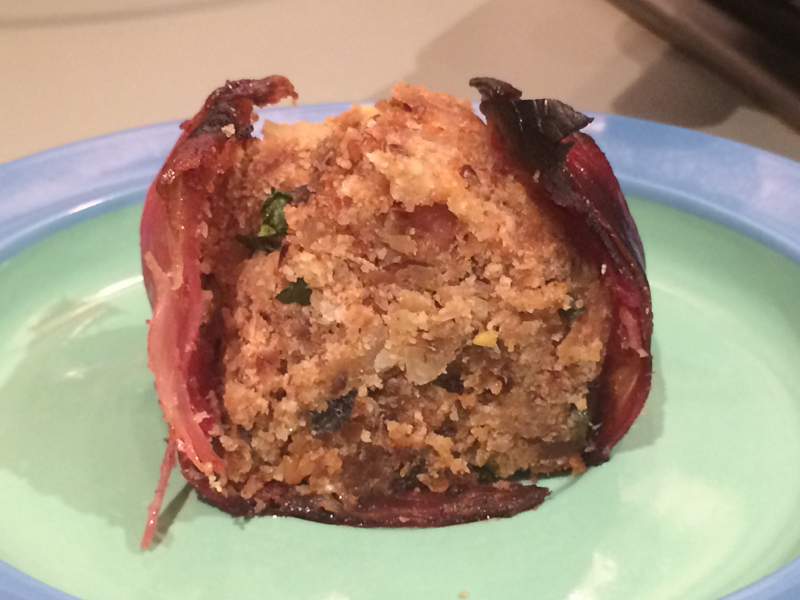 Goes fabulously with chicken, turkey or pork roasts.
Makes 2 rolls, serves 10.
Can be assembled (pre-cooking) up to 2 days ahead.
Good to have a gravy with this tasty stuffing.
Ingredients:
50g Unsalted Butter
2 Small Brown Onions, finely chopped
2 Cloves Garlic, crushed
100g Rindless Streaky Bacon, finely chopped
1/3 Cup + 1 tbsp Dry Sherry
1/2 Cup Pitted Dates, chopped
150g Cooked Chestnuts, chopped
1/4 Cup Slivered Almonds, toasted and chopped
2 Cup Fresh Breadcrumbs
1/4 Cup Fresh Sage Leaves, chopped finely
1/4 Cup Fresh Flat-leaf Parsley, chopped finely (optional)
1 tsp Grated Lemon Zest
2 Eggs, lightly beaten
1 tsp Sea salt, finely ground
1 tsp Black Pepper, finely ground
24 Thin Slices of Streaky Bacon or Pancetta
2 tbsp Honey
Gravy, for serving (optional)
Instructions:
Preheat oven to 180C and line a baking sheet with baking paper.
In a large frying pan over medium heat, melt the butter.
Add onion, garlic and bacon, cooking for 5-6 mins while stirring until onion has softened.
Add the sherry and dates and cook, while stirring, for another minute. Then remove from the heat and set aside.
In a large bowl, add chestnuts, almonds, breadcrumbs, sage, parsley, lemon, egg, salt and pepper. Mix well to combine.
Combine the onion mixture into the chestnut mixture. Blend well. Set aside.
Cut out two x 45cm lengths of aluminum foil and two x 45cm lengths of baking paper.
Top each piece of aluminum foil with a similarly sized sheet of baking paper.
Arrange 12 slices of bacon, overlapping slightly, onto the baking paper, to make a large rectangle shape.
Place half of the mixture across one end of the bacon.
Using the baking paper and the foil to help you, form a log with the stuffing mixture, so the mixture is even with the bacon at each end.
Ensure the log is wrapped up tightly in the bacon, then finish the wrapping with the baking paper and foil.
Repeat with remaining bacon and filling. You should now have 2 bacon-wrapped stuffing rolls.
Place the rolls (with the full wrapping) on the baking tray, separated by at least 1.5 inches.
Bake for 30 mins.
Meanwhile, mix the sherry and honey in a small bowl.
Take the rolls out of the oven and carefully remove the foil and baking paper wrapping, while keeping them on the lined baking tray, seam-side down.
Brush the rolls with sherry mixture and return them to the oven for 10 mins until the bacon is crisp but not too dark.
Cut into 2cm thick slices to serve. Serve warm with gravy.