Macedonian Zilnek Pastry (from Biljana)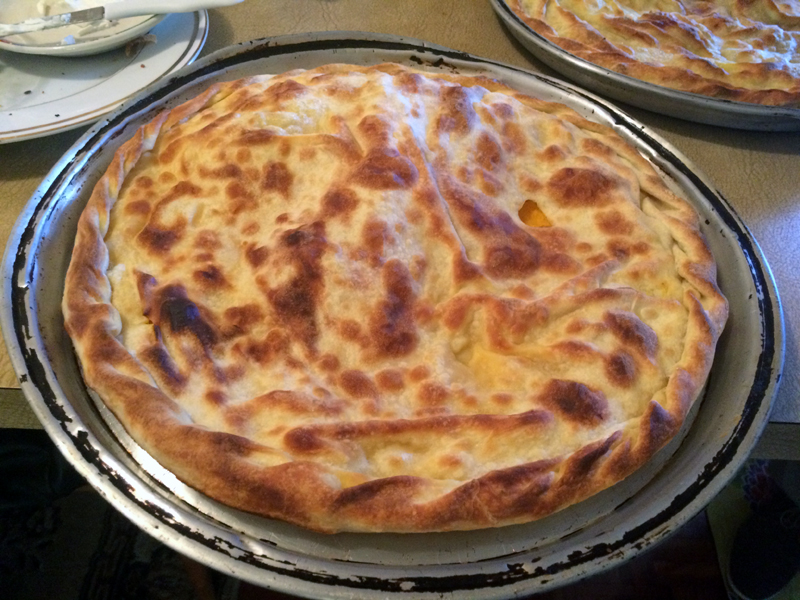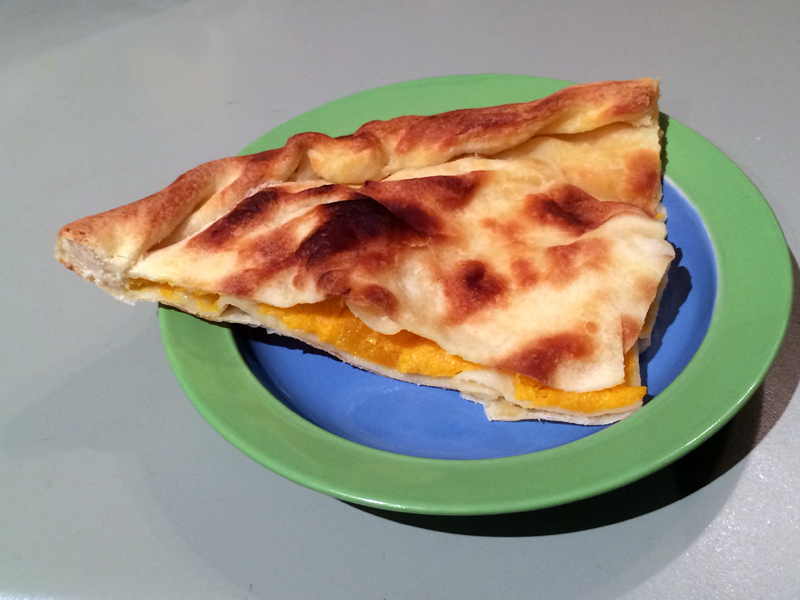 Can be sweet or savoury
Ingredients (Pie Pastry - Makes 4 large 50cm diameter pies):
2kg Plain Flour
2 tbsp Salt
3 Eggs
250g Tub of Margerine
Ingredients (Leek Filling - for 1 pie):
1 Cups Sliced Leeks, softened in the frying pan
1/2 Cup Ricotta
1 Egg
Ingredients (Pumpkin Filling - for 1 pie):
1/4 Pumpkin, caramelised and pureed
1 Egg
1/4 Cup Milk
1 tbsp Vanilla Sugar
Ingredients (Apple Filling for 1 pie):
3-4 Green Apples, grated with skins (but not the cores)
2 tbsp Vanilla Sugar
1/2 Cup Walnut, chopped finely
Instructions:
I suggest you start by making each of the fillings, ensuring there is enough for 4 pies, and then setting them aside.
Then move to making the dough.
Grease 4 large ~50cm 1" deep metal pie trays.
Then separately, in a very large bowl, mix 1.5 kg of the flour with salt. Then make a well in the centre and add the three eggs.
Mix dough with your hands until it forms a large ball. Move it to a lightly floured surface and knead it until it is no longer sticky, adding a little flour as needed.
Flatten the dough to a 25cm x 25cm square.
Spread 2-3 tbsp of margarine on top. Fold the dough and knead to mix in the margarine (Note : You can't overmix this dough, so make sure the dough and margarine are really well blended).
Repeat twice with the margarine and kneading to blend it in the dough.
Then, after the third go, add a little flour as/if needed to ensure the dough is not sticky.
Cut dough into 20 pieces. Knead each piece into round balls and then flatten each to a 10cm diameter.
Before proceeding, preheat oven to 180C (160C if fan forced).
Spread 1 tsp margarine over each flattened ball. Ensure the top of the flattened ball is well coated with the margarine.
Place 2 flattened balls together, margarine sides inside.
Then add one more on top, margarine on the inside again.
This will make a pie base.
Repeat to make 3 more pie bases, so that there is a total of 4 pie bases.
With the remaining flattened balls, place 2 flattened balls together, margarine sides inside, to make the pie tops. You should have 4 tops as well.
The dough is not likely to dry out so no need to cover them while you finalise the steps.
Roll a dough base to a large circle (very thin). It needs to be about 60-70cm in diameter. If you can't get to 60-70cm with a rolling pin (or want to save some time), you can stretch the dough slowly and carefully by holding it up over the top of your closed hands, pulling the hands away from each other to stretch the dough, carefully ensuring that no holes form. Separately, you can also stretch the border by stretching a little bit of the border at a time, working around the edge of the flattened dough.
Once done, place the dough base inside the greased deep pan dish. There should be extra dough hanging over all the edges around the perimeter of the dish.
Melt 1/2 cup of margarine. Dip a spoon in the margarine and drip little droplets of melted margarine on top of the laid out pie base (in the end, there should be about 1-2 tbsp of margarine droplets per base.
Repeat for the next 3 dough bases.
Add filling on top of each of the four bases in the dishes (max depth of 1cm) and set aside.
Roll a dough top to a large circle (very thin), to about 50-55cms, big enough to cover the filling. Stretch if and as needed.
Place the dough top over the filling, letting the dough fall a little bit wrinkly to create a nice looking top cover. Add wrinkles by pulling the dough once it is on, as desired.
Sprinkle the top cover with melted margarine, about 2-4 tbsp, to make it look great and crispen it up a little bit.
Also, brush some margarine around the inside of the dough base edges.
To make the threaded border, start from one point of the perimeter and pull, with the right hand (thumb and forefinger), a bit of the dough base edge which is sticking out (stretch a little where necessary).
Then, with the left hand (thumb and forefinger), fold the dough over while still holding a bit of the dough with right hand. As you repeat, it will start to look like a threaded border.
Once finished, brush more margarine across the top of the folder border.
Place each pie in the oven, uncovered, for 20 minutes (keep an eye on it to ensure it doesn't burn though).
Delicious when it's served warm.