Christmas Rice Salad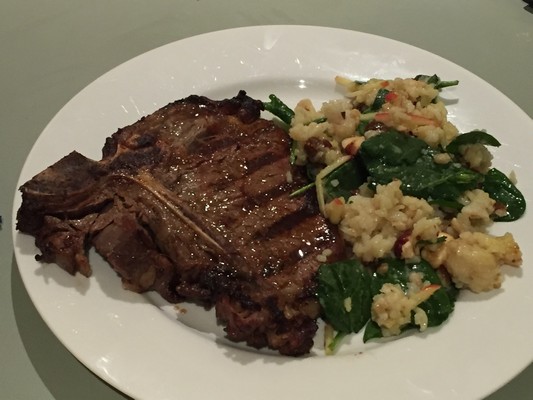 Serves 8
Ingredients:
1.5 Cups Rice Blend
2 1/4 Cups Apple Juice
1 Cup Dried Cranberries
1.5 Cups Boiling Water
1 Red Apple
Juice of 1 Lemon
150g Baby Spinach
3/4 Cup Flaked Almonds, toasted
100g Danish Fetta, crumbled (optional)
Ingredients (Honey Mustard Vinaigrette):
1/2 Cup Extra Virgin Olive Oil
3 1/2 tbsp Mustard (Dijon or other)
1/3 Cup Honey
1/4 Cup Lemon Juice
1 Garlic Clove, crushed and minced
Instructions:
Rinse rice through a sieve until water runs clear. Set aside.
In a medium saucepan over medium-high heat, place 1 cup of cold water, rice, apple juice and a pinch of salt.
Cover and bring to a simmer. Then reduce heat to medium-low. Cook for 30 mins until the liquid is absorbed and rice is tender.
Remove from heat and set aside to cool for 10 mins. Then transfer the rice to a bowl and let cool fully.
Meanwhile, in a heat proof medium sized bowl, place cranberries and boiling water. Set aside for 10 mins until cranberries are plump. Then drain and add to the rice.
Make the honey mustard vinaigrette by combining all ingredients in a glass and stirring rapidly with a fork or whisk to emulsify. Taste and adjust flavours with extra salt, pepper or lemon juice, as needed.
Core the apple. Keep the peel on. Cut into 1cm cubes or julienne. Toss with lemon juice to coat evenly then add to cooled rice mixture.
Add spinach and 3/4 of the almond flakes to the rice. Toss gently to combine.
Top salad with crumbed feta and remaining almond flakes. Serve with vinaigrette on the side.

Burmese Ginger and Peas Salad (A Crunchy Odd but Tasty Alternative to Regular Salads)
Ingredients:
1/2 Cup of Dried Yellow Split Peas
1/2 Cup of Dried Fava Beans
Canola oil for frying
1/2 Cup unsalted dry roasted peanuts (no honey roasted peanuts)
2 tbs Freshly Squeezed Lime Juice
1 tbs Juice from Pickled Ginger
2 tsp Fish Sauce
4 tsp Minced Garlic (Pickled, if possible)
1 1/2 Cups Finely Shredded Green Cabbage
1/2 Cup Finely Shredded Purple Cabbage
1/4 Cup Minced Pickled Ginger
1/4 Cup Minced Fresh Ginger
1/4 Cup Minced Shallot (Green Onion)
1/4 Cup Minced Red Pepper
Lime Wedges for Serving (Optional)
Instructions:
Place the split peas in a saucepan and the fava beans in a second pan. Add enough water to each pan to cover these vegetables by about 1 inch.
PEAS: Bring to a boil at medium heat, then simmer for 15 mins until slightly tender.
FAVA: Bring to a boil at medium heat, then simmer for 20 mins until their skins can be peeled off - maybe as long as 20 mins. Reserve water in the pan. Remove the skins off fava beans and return beans without the skins to water. Bring to a boil and then simmer for 20 mins longer until tender.
In a wok or saucepan, pour in oil to 1 inch in depth and heat to High (ready for frying). Carefully add the split peas to the hot oil and fry until golden brown and crisp, 3-4 mins. Transfer peas to paper toweling to drain well. Add fava beans, and fry until golden brown and crisp, 4-5 mins. Drain on paper towel. Fry and drain the peanuts in the same way (they should cook in 2-3 mins). Set aside.
In a bowl, combine the lime juice, ginger juice, fish sauce, garlic, and salt to taste; mix well. Set aside.
A FEW mins before serving, combine the green and purple cabbages and mound in the center of a serving plate. Arrange the fried peas and beans and peanuts, pickled and fresh ginger, shallots, and sweet pepper-chile mixture in separate mounds around the cabbage. Pour the lime dressing over the top.
At the table, toss the ingredients together to combine well before serving. Offer lime wedges for squeezing over individual portions.

Vietnamese Prawn Noodle Salad (Power-packed with fresh flavours)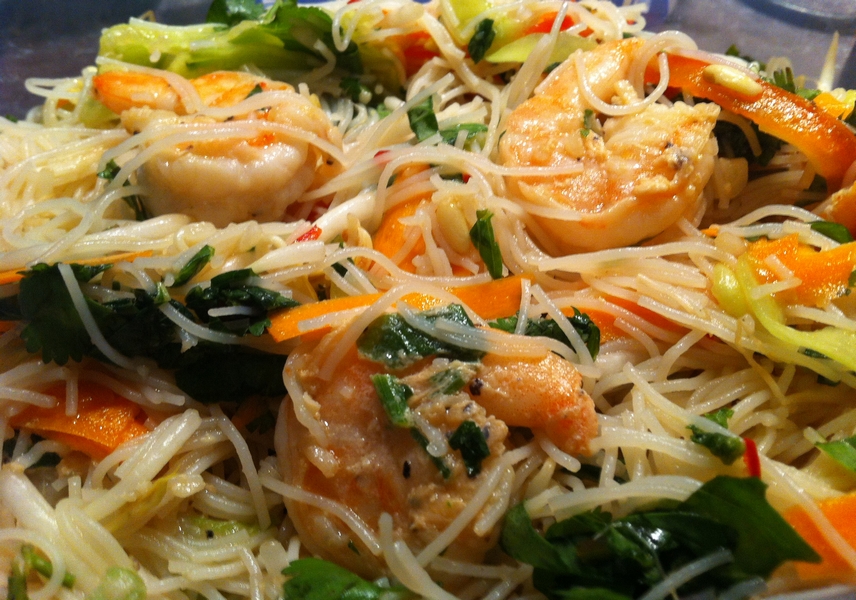 Serves 6
Prep : 20 mins

Ingredients:

The Salad :
100g Rice Vermicelli Noodles
1 Small Carrot
1 Lebanese Cucumber
1 Red Capsicum
500g Uncooked Peeled Prawns (pre-marinated in garlic is nice if you can find it, but prawns which are not pre-marinated are fine too)
1/3 Cup Basil Leaves, chopped
1/3 Cup Mint Leaves, chopped
1/3 Cup Coriander Leaves, chopped
1 Cup Bean Shoots
1/3 Cup Unsalted Roasted Cashews
The Dressing :
3 tbsp Brown Sugar
3 tbsp Fish Sauce
1/2 Cup Lime Juice
1-2 Small Red Chili, finely chopped
2 Small Garlic Clove, crushed
Instructions:
Heat up a frying pan with a little oil (1 tbsp) until nice and hot. Then sautee the prawns for only a couple minutes, stirring frequently and ensure they are cooked on both sides, until the prawns are no longer translucent. Take them off the heat immediately as they will keep cooking for a min or two. Set aside to cool.
Place noodles into a large heatproof bowl and cover with boiling water. Stand for 5 mins then drain into a colander. Rinse immediately under cold running water and then drain well.
Use carrot peeler to cut length-wise thin slices of carrots, cucumbers and capsicum.
Squeeze out remaining water from noodles and then transfer noodles to a large serving dish. Add vegetable slices, cooled prawns, herbs and bean shoots.
Combine the dressing ingredients in a small bowl and mix well. Just before serving, drizzle over salad and toss well to combine. Sprinkle the cashews over the top, to serve.