Vietnamese Bun Cha (Pork Noodle Salad)
Serves 4
Overnight marinating needed
Note : recipe can get quite salty so it has been adjusted accordingly. Suggest sticking to ingredient proportions.

Ingredients (Marinade):
3 tbsp Fish Sauce
2 Spring Onions, chopped
2 tsp Soy Sauce
2 Large Golden Shallots, diced finely
4 Cloves Garlic, crushed and minced
Ingredients (Salad Assembly):
500g Pork Belly, thin slices
500g Cooked Thin Rice Noodles, drained and set aside
200g Beansprouts
1 Baby gem lettuce, chopped finely
1/2 Cup Thai Basil leaves, chopped + extra for serving
1/2 Cup Vietnamese Mint leaves, chopped + extra for serving
1/2 Cup Coriander leaves, chopped + extra for serving
1/2 Cup Peanuts, roasted, skins removed and crushed to a rough crumb + extra for serving
1 Carrot, julienned + rice wine vinegar + sugar for pickling
Ingredients (Dressing):
2 tbsp Fish Sauce
2 tbsp Rice Wine Vinegar
2 tbsp Sugar
1/2 Cup Water
1 Red chilli, deseeded and chopped as finely as desired
2 Garlic Cloves, crushed and minced finely
1 tbsp Lime Juice
Instructions:
You could prepare pickled carrots as well at least 30 mins ahead, preferably overnight.
In a large bowl, make the marinade by combining the fish sauce, spring onion, soy sauce, shallots and garlic.
Add the pork, toss to coat then marinate in the fridge for at least 2 hour or preferably overnight.
When ready to serve, combine in a small saucepan, over medium heat, all the dressing ingredients and bring mixture to a boil. Remove from heat and set aside to cool.
In a frying pan or on the BBQ, cook the marinaded pork for a few minutes on each side until cooked through. Set aside to cool a little.
In a large bowl, assemble the remaining salad ingredients, toss dressing through.
Serve garnished with peanuts and herbs.

Vietnamese Prawn Noodle Salad (Power-packed with fresh flavours)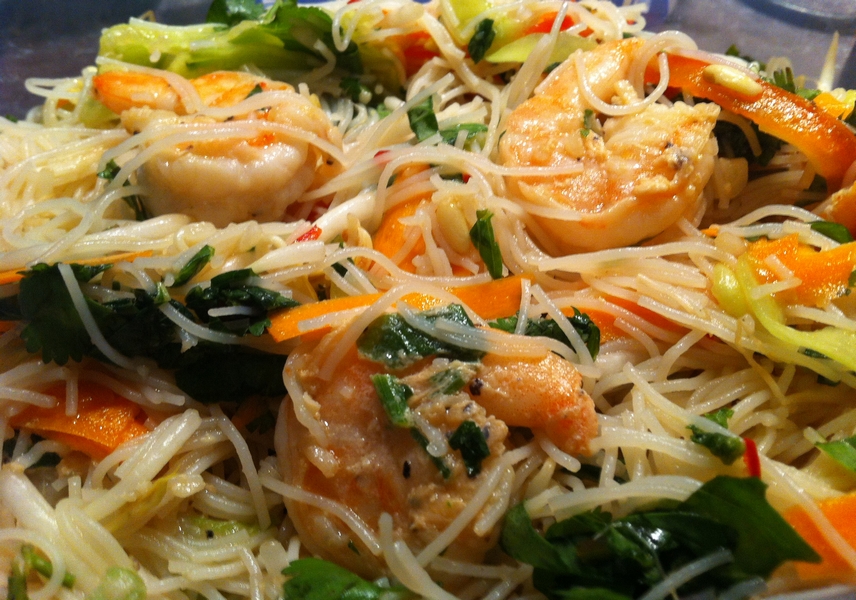 Serves 6
Prep : 20 mins

Ingredients:

The Salad :
100g Rice Vermicelli Noodles
1 Small Carrot
1 Lebanese Cucumber
1 Red Capsicum
500g Uncooked Peeled Prawns (pre-marinated in garlic is nice if you can find it, but prawns which are not pre-marinated are fine too)
1/3 Cup Basil Leaves, chopped
1/3 Cup Mint Leaves, chopped
1/3 Cup Coriander Leaves, chopped
1 Cup Bean Shoots
1/3 Cup Unsalted Roasted Cashews
The Dressing :
3 tbsp Brown Sugar
3 tbsp Fish Sauce
1/2 Cup Lime Juice
1-2 Small Red Chili, finely chopped
2 Small Garlic Clove, crushed
Instructions:
Heat up a frying pan with a little oil (1 tbsp) until nice and hot. Then sautee the prawns for only a couple minutes, stirring frequently and ensure they are cooked on both sides, until the prawns are no longer translucent. Take them off the heat immediately as they will keep cooking for a min or two. Set aside to cool.
Place noodles into a large heatproof bowl and cover with boiling water. Stand for 5 mins then drain into a colander. Rinse immediately under cold running water and then drain well.
Use carrot peeler to cut length-wise thin slices of carrots, cucumbers and capsicum.
Squeeze out remaining water from noodles and then transfer noodles to a large serving dish. Add vegetable slices, cooled prawns, herbs and bean shoots.
Combine the dressing ingredients in a small bowl and mix well. Just before serving, drizzle over salad and toss well to combine. Sprinkle the cashews over the top, to serve.