Welcome to Vietnam!

Had a fantastic 2.5 week trip in Vietnam!

The people are absolutely lovely and hard-working, the food is delicious and, for the most part, extremely healthy, and tons of interesting cultural sights to see!

CITIES/PLACES VISITED IN VIETNAM : Ho Chi Minh City (Saigon), Hoi An, Hue, Hanoi, Halong Bay, Nha Trang.

Key Expressions & Words in Vietnamese

Chao boi san - good morning
Sin chau - Hello
Tap biet - Bye
Jup suhrk kwa - cheers
Ngong lam - very tasty
Yum - Careful with this word... it means horny or flirtatious
Gamm Euhn - thank you
Jup ngon mee.uhng - Bon appetit
Doy no zoy - I'm full
TOP THINGS TO DO/SEE IN VIETNAM
Scary and creepy Marble Mountain cave experience in Central Vietnam
Hoi An's Red Bridge Cooking class. Amazing food!!! Try to get Lin as your guide, she's fantastic (positive and passionate)!
Very graphic and somber War Remnants Museum in HCMC. Also fascinating is Ho Chi Minh's Independence Palace and the war bunker underneath.
HCMC Post Office is also interesting to see from the inside.
Amazing Halong Bay cruise.
Intrepid Urban Street Food tour in Hanoi
Buy lots of custom made inexpensive clothes in Hoi An
BEST MEMORIES FROM VIETNAM
Making rice noodles ourselves
Crossing the road in Saigon and Hanoi. Move slowly and steadily across, constantly looking both ways regardless of the side you're on as vehicles don't always stick to their side or lane.
The ubiquitous conical hat!
The ubiquitous motorbike (very few bicycles nowadays)
Randomly located multi-story tall skinny buildings.
The Vietnamese really celebrate Christmas with a lot of decorations on the building (bigger decorations than in western countries) and pose for pics in front of them... Otherwise, they don't celebrate it at all.
FAVOURITE FOODS / DRINKS IN VIETNAM
Ca Phe Sua Da (Ice Coffee with condensed milk)
Ca Phe Su Nong (Hot coffee with condensed milk)
BBQ Beef wrapped in lot leaves
Pomelo Salad
Pho Bo (Classic Vietnamese Beef Noodle Soup)
Dried papaya, pineapple and mango
Coffee with egg Ca Phe trung
REALLY WEIRD FOOD / DRINKS
(SOME EVEN I COULDN'T GATHER THE COURAGE TO TRY!)
Cobra with Mint at a Tourist Restaurant in Nha Trang (Did not try it)
Not-yet-laid chicken eggs (very strange! Did not try it.)
Sweet drink with meat dumplings (surprisingly tasty!)
PHOTO ALBUMS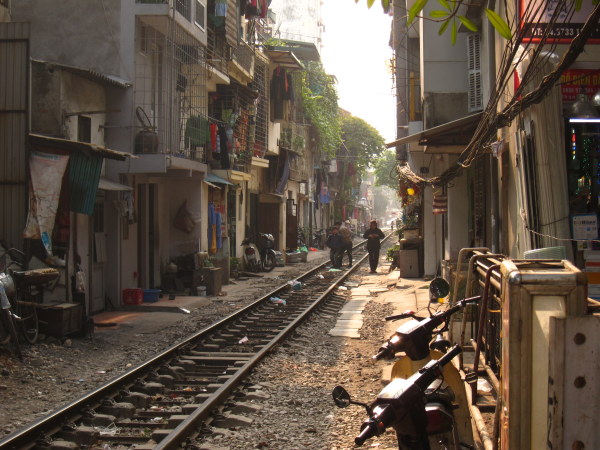 Top Pics & Moments from Trip to Vietnam
Northern Vietnam


Hanoi Wanderings



Hoan Kiem Lake
Hanoi


Temple of Literature
Hanoi


Fine Arts Museum
Hanoi


Themed Streets
Hanoi


Food
in Hanoi


2 Day Cruise
Halong Bay


Ti Top Island
Halong Bay


Vegetable Carving Demo
Halong Bay

Hoi An
Wanderings


Hoi An
Markets


Red Bridge Cooking School
Hoi An


Food in
Hoi An


Countryside drive
Danang to Hue


Marble Mountain
Central Vietnam


Food in
Hue

Ho Chi Minh City
Southern Vietnam


Banh Than Markets
HCMC


Reunification Palace
HCMC


War Memorial
HCMC


Christmas in
HCMC


Food in
HCMC


Nha Trang
Wanderings


Food in
Nha Trang
New Friends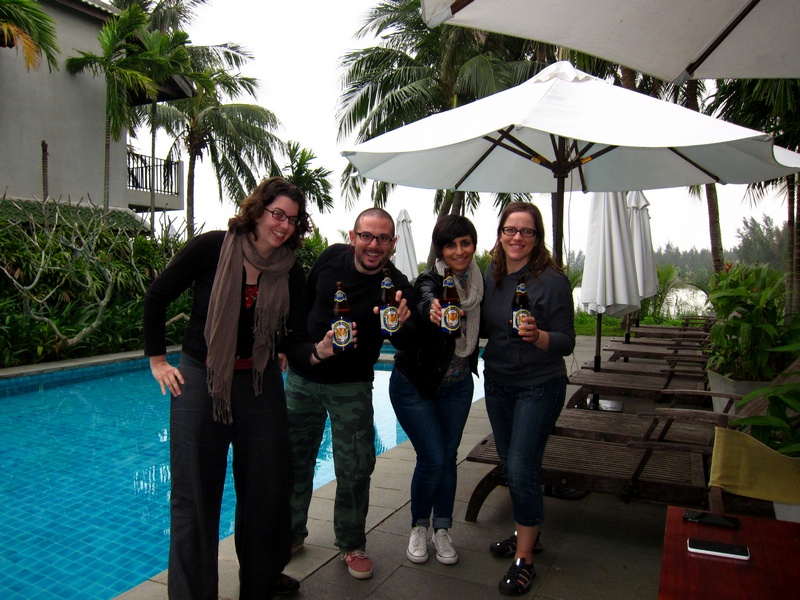 New Foodie-Mad Friends
Met in Vietnam
WHAT TO DO WHEN I GO BACK
Scuba Diving in the South End of Vietnam
Mekong River Delta Tour to Cai Be (a few hours away from HCMC)
Hiking in Dalat, despite the Malaria risk (eek!)
Saigon - Binh Anh Village, Cu Chi Tunnels, Sac Mangroves Base in Can Gio (Can Gio), Suoi Tien Theme Park (Entertainment Park), HCMC Zoo (District 1).
Saigon Restaurants to Try - Muoi Xiem Pancake Restaurant (Nha Hang Banh Xeo Muoi Xiem, 213 Bis Nam Ky Khoi Nghia, D3), Cham Charm Restaurant (Nha Hang Cham Charm, 2 Phan Van Bhuong, D7).
Travel by Sampan to see Fruit Orchards (near Saigon)