include_once($_SERVER['DOCUMENT_ROOT']."/include/header.php"); ?>
Welcome to Thailand!

Oct/Nov 2000 -- Southeast Asian Tour (2 weeks; 5 days in South Korea, 7 days in Thailand, 3 days in Hong Kong)

After having gone to Japan and yet another Pad Thai meal in Toronto, I was thirsty for more travelling in Asia... Hence, I decided to visit South Korea, Thailand, and Hong Kong for a fall asian whirlwind tour! I got a chance to visit some friends (Rebecca, David, Jenny, and Sherman)... and a real culinary challenge for my tastebuds.

Plus, having started in -5 degrees celsius Korea, then going to +30 degrees in Bankok, and then 15 degrees in Hong Kong... it's a shock I didn't come home with the sniffles.

CITIES VISITED IN THAILAND: Bangkok, Ayuthaya, and Chiang Mai.
TOP 10 THINGS TO SEE/DO IN THAILAND
1. Wat Pho, Bangkok -- you can get a traditional Thai massage there for pennies!

2. Grand Palace, Bangkok -- sigh, so I've heard (missed it!)

3. Siam Temple Ruins, Ayuthaya -- a neat comparison to the rich Bangkok temple

4. Floating Markets (now a tourist market, but worth the trip to get a sense of the old market lifestyle. Plus you get to ride to it in a cool long-tail boat.)

5. Take an all-day cooking class in Chiang Mai -- not too expensive and you end up making about 5-7 dishes in one day (and you can keep the recipe book!)

6. Go to the snake farm, Chiang Mai -- you can take a tuk-tuk (cheap taxi) there; the snake show is very funny

7. Other Wat to visit in Bangkok: The Golden Mount, 40 ft tall Buddha, the Marble Wat (In Chiang Mai -- you must see Wat Doi Suphet, a Golden Temple at the top of a mountain)

8. Look for an opportunity to speak to the monks -- many love talking to tourist (and practising their English)

9. Thai Kickboxing, Bangkok -- fascinating rituals, though the boys start off very young

10. Go on an elephant ride and hill tribe trekking -- so I've heard as well.




BEST MEMORIES FROM THAILAND
BUDDHAS EVERYWHERE (RECLINING BUDDHAS LOOK ESPECIALLY COMFORTABLE)

BEAUTIFUL BUDDHIST TEMPLES

RELIGIOUS RITUAL OF BUYING A CAGED BIRD AND FREEING IT (TALK ABOUT ABOUT GOOD FOR RETAILERS -- YOU NEVER RUN OUT OF SUPPLIES)

STREET FOOD VENDORS -- DAY AND NIGHT

BUYING SHEETS OF GOLD AND PLACING THEM ON BUDDHAS

TUK-TUKs -- Cheap cabbies with no shocks or suspension!

WATCHING A THAI MOVIE (with English subtitles -- and seeing only Thai brands featured)

THAI KICK-BOXING

SNAKE TAMERS IN CHIANG MAI

THE HISTORIC RUINS OF AYUTHAYA, OLD CAPITAL OF SIAM

LOTUS FLOWERS AS RELIGIOUS OFFERINGS

TALKING TO AN ORANGE-CLAD BUDDHIST MONK WHO WANTS TO BECOME A SOLDIER AFTER HIS MONKHOOD

THAI MASSAGES...mmmmmm.

TOURISTY FLOATING MARKETS

TEAK WOOD CARVINGS

RIDING IN A LONG TAIL SPEED BOAT

PETTING A BABY ELEPHANT

TAKING A COOKING CLASS IN THAILAND




FAVOURITE FOODS / DRINKS IN JAPAN
Thai Fried Noodles, of course!!
Fried Bananas in Coconut Milk
Coconut Gelly Treats (Yummy...but watch out for Durian flavour!)
Beef Salad / Papaya Salad / Green Curry Chicken (Learnt these in my cooking class)
SPICY THAI SOUP FOR BREAKFAST
LEMONGRASS DRINK

REALLY WEIRD FOOD / DRINKS
(SOME EVEN I COULDN'T GATHER THE COURAGE TO TRY!)
PIG EARS (I've had those before - they're pretty chewy)... but I didn't get to try them in Thailand
PICKLED MANGOES (Pretty yummy actually, it does have a particular taste to it though)




PHOTO GALLERY
CHAING MAI - Trip in Jan 2016
Wat Temples
Chaing Mai

Waroro Market
Bangkok

Night Food Market
Chaing Mai

Cooking Class
Chaing Mai

Chinese Temples
Chaing Mai

Food
Chaing Mai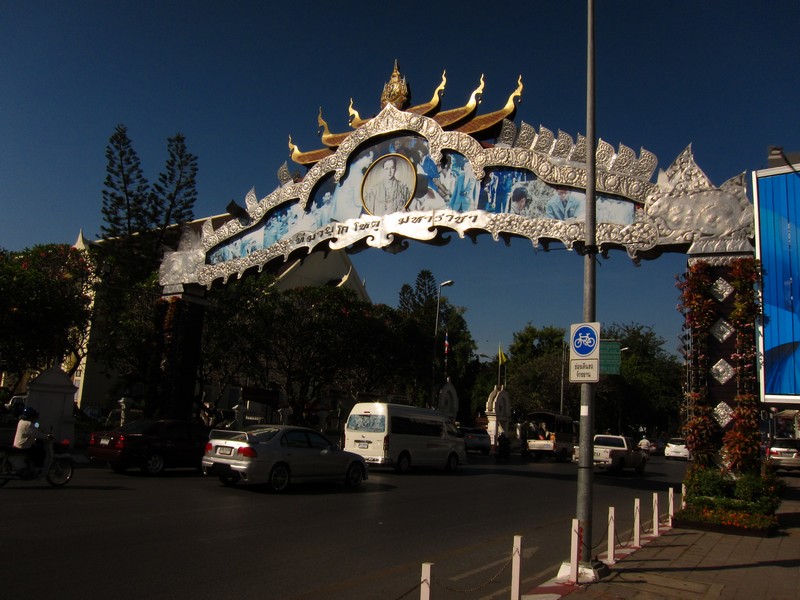 Misc
Chaing Mai
BANGKOK - Trip in Jan 2016
Architecture
Bangkok

Night Food Tour
Bangkok

Sri Temples
Bangkok

Grand Palace
Bangkok

Carving Class
Bangkok

Food
Bangkok

Thai Regional Festival
Bangkok

Transport
Bangkok

Misc
Bangkok
BANGKOK, CHAING MAI & AYUTHAYA - Trip in 2007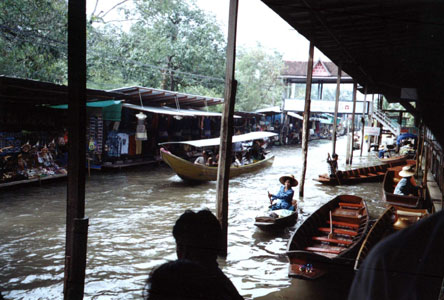 LEARNING THAI
For those of you interested in learning Thai, I have returned with some neat catch phrases;

GREETINGS:

Good Morning / Day -- Sawatdee-ka (saw-waht-dee-kah) --> FOR WOMEN (For MEN, replace "ka" with "krap")


POLITE PHRASES:

Thank you -- Korb-khun-ka (korb-koon-kah) --> FOR WOMEN (For MEN, replace "ka" with "krap")

Yes -- Chai Ka (cha-ee-kah) No -- Mai Chai Ka (my-cha-ee-kah)


WHAT WOULD I DO IN THAILAND WHEN I RETURN?
Go see the beaches areas
Go to Suthamaya (1st old capital of Siam)
See beetle or fish fighting
Elephant Back Riding
Go camping on a tribal village tour
In Bangkok, I would like to see the Grand Palace
Even though it's not in Thailand, I would also love to go to Cambodia to see Angkor Wat

include_once($_SERVER['DOCUMENT_ROOT']."/include/footer.php"); ?>