include_once($_SERVER['DOCUMENT_ROOT']."/include/header.php"); ?>
Welcome to Switzerland!

European Tour (1 mnth) & Study Exchange in Switzerland (3 mths)

Upon returning from Japan for my first trip outside of North America and mid-way through my studies at university, I realized that I desperately wanted to go on a study exchange in Europe.

Luckily, Ivey, my business school, offered such a program and ultimately allowed me to visit the school of my choice -- Sanct Gallen Universitat, in St. Gallen, Switzerland, which featured a program on European Business. I was ecstatic!

Prior to beginning my course (European schools begin classes in October vs. September in North America) I decided to take a whirlwind tour of Europe for a month. It was fantastic. In one shot, I visited cities across Italy, Switzerland, Spain, France, England, Holland, and Germany. Later, during my studies at St. Gallen I also visited Luxembourg and Austria.

CITIES/TOWNS VISITED IN SWITZERLAND: St.Gallen, Zurich, Basel, Luzern, Appenzell, Fribourg, Gruyere, Montreux, Nunningen.
TOP THINGS TO DO/SEE IN SWITZERLAND
1. Go see the carving of the weeping lion in Lucern. It is breathtaking. Also take a walk on the famous Lucern bridge to see a series of interesting historic paintings along the way.
2. Walk through the hills and little town of St.Gallen (also, be sure not to miss the beautiful church and the unique and ancient library)
3. Order the Raclette -- you will never have so much cheese in one sitting
4. See the magnificent fortress Chateau de Chillon (near Montreux).
5. Zurich is an interesting place to walk around and see a few churches -- though there is not that much to see other than that.
6. Basel is a beautiful place with interesting churches (the Munster) and art galleries (make sure you go see the Tingelay fountain)
7. Gruyere is a cute little walled village to see -- it has a large castle that regular holds Swiss artwords. The Giger museum ther is interesting -- though I think it is clear from his artwork that Giger has something against women. 9. Go SLEDDING in the mountainous area -- you'll never think sledding is for winps again. A friend of mine actually broke his leg sledding down these mountains (and I half fell off once too).


BEST MEMORIES FROM SWITZERLAND
Other than the above, I suddenly found a love for cows here. Contrary to popular belief, most Swiss cows are brown and fuzzy. Plus, they used to make these cows wear HUGE bells around their necks when walking up the mountains. Poor big guys.

Going to the Alps (only once though) and learning to snowboard with a very good looking instructor.




FAVOURITE SOUVENIRS
1. I bought my dad a CD of traditional swiss yodelers -- It is fabulous, but somehow, I don't think my dad's too crazy about it.
2. A recipe for cheese fondue from my loft brothers.
3. Wooden stove spoons with a purposeful hole in them (for my mom)



FAVOURITE FOODS / DRINKS IN SWITZERLAND
Cheese Fondue
Raclette
Cold Cherry Soup
Birnendicksaft (Pear Syrup Spread for Toast)
Gluewein (or mulled wine with spices)
Blood Orange Sherbet (Yum!!) -- "Blutorange" in German
The thick cream from Gruyere (it is served with fruit or with your coffee)
Freshly roasted almonds
Vermicelli (not the asian noodle) -- this is a dessert made of chestnust puree with vanilla (my absolute favourite).
REALLY WEIRD FOOD / DRINKS
(SOME EVEN I COULDN'T GATHER THE COURAGE TO TRY!)
The Swiss really like their cheese -- to prove it, I once saw in Appenzell, a food stand selling bagettes, which had all the inside bread dug out, and instead, was filled up with fondue cheese. Woah, too much cholesterol for me!


PHOTO GALLERY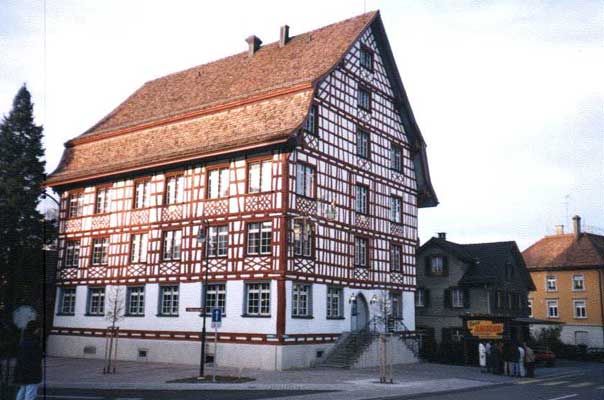 LEARNING SWISS GERMAN
For those of you interested in learning Swiss-German, I have returned with some neat catch phrases;

Wie Goht's? (pronounced "vee-gots")- What's up?
That's the best purely Swiss German collocquialism I found. You might get by using High German (Hoch Deutsch), but don't get surprised if they don't always understand you. ;c)




WHAT ELSE WOULD I DO IN SWITZERLAND?
Go to Interlachen, sports capital, and do some more skiing.
Go to Basel to see the Tingelay museum
Go to Bern to see the Bears and the capital in general (William Tell stuff)

include_once($_SERVER['DOCUMENT_ROOT']."/include/footer.php"); ?>