include_once($_SERVER['DOCUMENT_ROOT']."/include/header.php"); ?>
Welcome to Puerto Rico!

Work Travelling - the best type of travelling!

In winter 2000, I went to Puerto Rico with 5 colleagues from Warner-Lambert Consumer Healthcare (now Pfizer CHC) to visit one of our manufacturing plants. Of course, as it is cheaper to fly over the weekend -- we all decided that it would be fun to arrive on Friday... for a Tuesday-Wednesday meeting. With some spare time to kill, we visited San Juan, the capital, with its impressive historic fortress, the caverns of Camuy, and of course,... the beach!! It was a great trip... I even got to drive around in a rented car on the surprisingly well-paved roads (U.S. colony!)!
TOP TEN THINGS TO DO/SEE IN PUERTO RICO
Walk around the city (it's pretty small though)
Visit the fortress which overlooks upon the ocean.
See the caverns -- third largest in the world! Breathtaking!
See the Rainforest (I didn't have enough time to)
Visit the Bacardi factory (I didn't have enough time to)
BEST MEMORIES FROM PUERTO RICO
Looking around at all the parked car mirors, they were for some reason either banged up pretty bad or ripped off altogether! If I had a car, this would be the last place I brought it to! ;c)
Gorgeous sunsets and beautiful soft-sand beaches
Pastel-coloured Buildings, with Iron Bars over the Windows
FAVOURITE FOODS / DRINKS IN PUERTO RICO
Monfongo (a plaintain mash) with lobster
Puerto Rican shrimp are absolutely huge and delicious
PHOTO GALLERY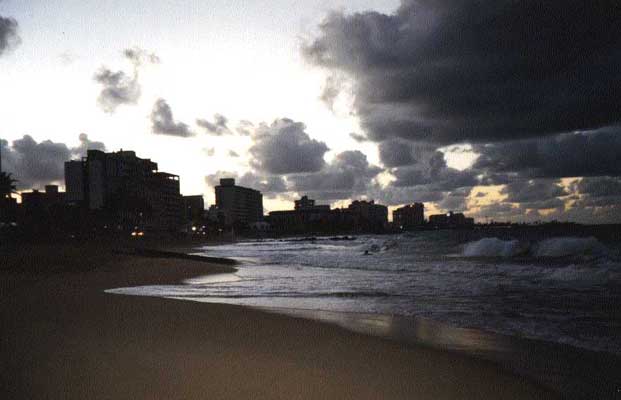 WHAT ELSE WOULD I DO IN PUERTO RICO?
Visit the Puerto Rican rainforest
Go spelunking in the caves (ie. serious cave climbing for 4 hours!)
Visit the bacardi rum factory
Drive around the rest of this tiny island (about the size of southern Ontario --> Toronto to Windsor)
include_once($_SERVER['DOCUMENT_ROOT']."/include/footer.php"); ?>