include_once($_SERVER['DOCUMENT_ROOT']."/include/header.php"); ?>
Welcome to Japan!
The land of the Rising Sun

Summer 1996 -- AIESEC Cultural & Commercial Tour (2 weeks)

For two weeks, myself and 10 other Canadian AIESECers were introduced to the cultural and commercial elements of Japan (touring Japan with 10-30 Japanese AIESECers).

Travelling through Japan we saw various buddhist temples, shinto shrines, ancient castles, buddha statues, noodle restaurants, and busy subways...

...unfortunately, no one wanted to go to Karaoke bars or Pachinko Parlours (Unique Japanese Gambling) with me!

This was my first trip out of North America -- What an experience!

CITIES VISITED: Tokyo (Downtown, Asakusa, Kamakura), Hiroshima, Kobe, Kyoto, and Osaka, all on the island of Honshu.
TOP TEN THINGS TO DO/SEE IN JAPAN
1. Kamakura, Tokyo -- Traditional Temple District (Big Buddha)

2. Asakusa, Tokyo -- Traditional Temple District (very different from Kamakura)

3. Namba, Osaka -- Osaka's crazy downtown marketplace (a real marketing realm)

4. Osaka and Hiroshima Castles -- Very beautiful buildings, and the museums inside are cool as well!

5. Golden Pavillion, Kobe -- A gold plated temple on water

6. Myajima Island and Tori Temple, Kobe -- Sacred island with freely roaming deer and the floating temple is also a marvel to see

7. Go to a traditional restaurant (there are all types of Japanese restaurants in Japan -- sounds funny but it is true!) Plus, you must try the green tea ice cream, Japan's #1 selling flavour!

8. Traditional Kyoto Area -- See geisha, travel on lantern lit boats, go to a tea room, see the old pleaure quarters.

9. Shibuya or Shinjuku, Downtown Tokyo -- Two popular areas in downtown Tokyo for shopping, meeting friends, promenades.

10. Hiroshima Peace Park (A memorial to the 2nd World War)




BEST MEMORIES FROM JAPAN
PICTURE BOOTH PHOTOS

GUYS WITH HELLO KITTY STICKERS ON THEIR CELLPHONE

HAMBURGER VENDING MACHINES

REALLY THIN POP CANS (...and then mega-cans 2X the size of Canadian cans)

CHOPSTICK HOLDERS (in various shapes -- vegetables, fish, bamboo, etc.)

SLURPING NOODLES (it's considered a compliment to slurp!)

BEING PART OF A TRADITIONAL TEA CEREMONY

DRESSING UP IN A KIMONO




FAVOURITE FOODS / DRINKS IN JAPAN
GREEN TEA ICE CREAM -- #1 Selling Ice Cream in Japan

RED BEAN ICE CREAM

REAL BENTO BOX (the Bento boxes in Canada don't come with the same goodies!)

WARM SAKE

PANCAKE / OMELETTE WITH SWEET SOY SAUCE (from Hiroshima)

SENBAI CRACKERS (Small glossy salty crackers rolled in seeweed strips)




REALLY WEIRD FOOD / DRINKS
(SOME EVEN I COULDN'T GATHER THE COURAGE TO TRY!)
I tried this breakfast dish that I wasn't very impressed with... it's called Naro (grain with egg whites... need I say more?).

Also, I wasn't crazy about dried squid; this and other dried fish are commonly munched on as snacks in Japan.

Potato ice cream was a little flavourless... but at least I gave it a try!



PHOTO GALLERY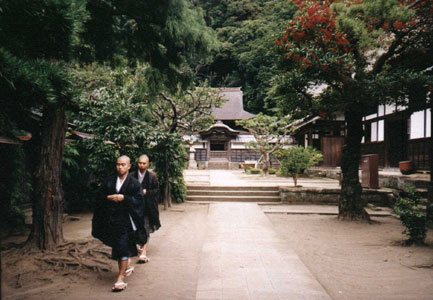 DOING BUSINESS IN JAPAN
For those of you interested in learning about doing business in Japan, we visited several companies during our stay, including Mazda, Mitsubishi, Yasuda Insurance, the Tokyo Stock Exchange, and the Quebec Tourism Office (yes, there actually is one in Japan!). Also, the Canadian Embassy with the Japanese AIESEC students coordinated a conference whereby the topics of Canadian-Japanese International Relations, Japanese vs. Western Media, Teaching in Japan, and Canadian Trade with Japan were covered.

I even developed a document that reviews some insights on Doing Business in Japan that I have gained through this trip for the University of Western Ontario, which sponsored part of my trip.
LEARNING JAPANESE
For those of you interested in learning japanese, I have returned with some neat catch phrases;

GREETINGS:

Pleased to meet you -- Hajmemashite (Haje-may-ma-shee-tay)

Good Morning / Day -- Ohayo (O-hi-o)

Good Evening -- Konichiwa (Ko-nee-chee-wah)

Good Night -- Gomen Nasai (Go-men-nah-sa-ee)


POLITE PHRASES:

Thank you -- Domo Arigato (Doe-moe-ah-ree-gah-toe)

Thank you (polite) -- Domo Arigato Gozaimasu (Doe-moe-ah-ree-gah-toe-goe-za-ee-mahss)

Click here for More Japanese Expressions!




WHAT WOULD I DO IN JAPAN WHEN I RETURN?
See a geisha
Spend time in a traditional tea house
Visit an art gallery / museum with historic collections of ukiyo-e (eg. Ota Memorial Museum of Ukiyo-e in Harajuku, Hiraki Ukiyo-e Museum in Yokohama)
Shop along the Ginza strip in Tokyo (Tokyo's most expensive shopping district!)
Play Pachinko (Japanese Blue Collar Gambling)
Go Karaoke singing
Watch a sumo match and a baseball game, Japan's two favourite sports
Buy traditional Japanese sandals and incense
Go see a Kabuki, Bunraku or Noh play (puppet theatre)
Go to a Japanese Jazz bar and disco (away from Rapongi, the westernized bar district)
Ride in a lantern boat in Kyoto (can't get more touristy than this, but I'm sure it would be worthwhile nevertheless!)
Visit Takayama (a village in the Japanese Alps)
Eat Shabu Shabu (similar to sukiyaki, but in a broth)
Visit Tsukiji, the famous fish market at 6am to see the fish auctions
Dinner in Okutakao (near Tokyo) at the restaurant Ukai-Toriyama
Shopping near Shibuya station (hip shopping area -- equivalent in a way to Toronto's Queen St. West)
Visit Akihara (electronic/gadgets shopping district)
Visit Cakesa Sweets Specialist Area in Tokyo
Visit Meiji-mura (Meiji village) with old Meiji-era architecture and the old Imperial Hotel which was in part designed by Frank Lloyd Wright
Eat Nabe (similar to hot oil fondue)
Read the "Oxford Book of Japanese Short Stories"
Go back to traditional Kyoto to the pleasure quarters and for sightseeing of more shrines (eg. Ginkaku-ji, the temple of the Silver Pavilion)
Visit Kanazawa, a traditional city with a geisha district
On the wide tree-lined Omotesando boulevard in Tokyo, top Japanese architects have unleashed their creativity on flagship fashion stores. Heavyweights such as Jun Aoki, Toyo Ito and the award-winning Tadao Ando (Tokyo Art Museum) have run amok with quirky earthquake-proof design, elegantly using concrete, glass and mesh to create a street of minimalist baubles. At the sleek and slender Tod's boutique, Ito makes a bold statement with his concrete "tree branches" and column-free interior, while the Dior building is cloaked in translucent acrylic "curtains". Just around the corner on Aoyama Street, Herzog & de Meuron, architects of London's Tate Modern, have bubble-wrapped the flagship Prada store in diamond-shaped glass pockets. Inside, there's not a sharp edge in sight: just a clean continuum of white space interrupted by the occasional shoe languishing on a cowhide rug.
There's no shortage of bots in Japan, as I discover in the toy section of the colossal Yodobashi-Akiba department store in the Akihabara district of Tokyo. Take in a robotic show at the Honda showroom in Shibuya for a glimpse of the humanoid future. The Asimo robot runs at 6km an hour, climbs stairs and rides a bike.
It is after wandering slack-jawed around the Miho Museum in Shiga prefecture, a bullet train ride away from Tokyo, that I begin to ponder the lengths to which the Japanese are prepared to go for the sake of art. Here the architect I. M. Pei has literally lopped off the top of a mountain in the Konan Alps and inserted a masterpiece of light-flooded glass before putting all 100,000 tonnes of mountain back again. Pei's hidden Shangri-la, as he refers to it, is as much a part of the art experience as the museum's priceless Asian and western antiques.
At Home maid cafe in Akihabara, Tokyo's electronic district and the spiritual heart of the comic world. Outside, girls in full Victorian maid regalia pose on the pavement, and androgynous tail-coated garcons (women dressed as men) hand out flyers for butler cafes. These popular character cafes, staffed by cute manga characters (in this case, maids), form part of a wider phenomenon in Japan known as cosplay (or costume play), essentially an innocent form of role-play. Cosplay reaches its zenith on Sunday mornings in Tokyo's Harajuku district, where identikit "tribes" of punks, Gothic Lolitas and Bo Peeps hang out and invite tourists to take pictures.
Cost-effective, central and well located for the airport, the Akihabara Capsule Hotel in Tokyo gives converts to Japan's gadget-filled lifestyle on their way home a last miniaturised look at what they're leaving behind. Although the capsule hotel was born back in 1979 in Osaka, Japan's second city, female-only floors did not arrive until 2002. For many visitors, these hotels – conceived to offer a small but perfectly formed overnight bolthole for Japan's armies of city salarymen in the booming economy of the early 1980s – have lost none of their legendary appeal. My locker, located just outside the dorm near the well-stocked and squeaky-clean communal bathroom, contains towels, toothbrushes and a yukata, and is roomy enough to hang a dress. I access the internet for free, charge my mobile on a coin-operated charger and pay $1 for a coffee. (Tip: Take an inflatable travel pillow.)
include_once($_SERVER['DOCUMENT_ROOT']."/include/footer.php"); ?>