include_once($_SERVER['DOCUMENT_ROOT']."/include/header.php"); ?>
Welcome to Hungary!

Sept./Oct. 2001 -- Eastern European Tour (16 Days)

I have always been curious about Eastern Europe, Czech Republic in particular for no good reason (I liked their country's name and their stamps -- talk about judging a book by its cover). Hungary's draw to me has always been culinary -- my family has always made all sorts of hungarian meals (from my father's family)... I had to see what it was really like in the country of origin! (My conclusion... delicious!... but my mom's special touch will always taste better to me!).

Another reason for this trip, apart from fulfilling my personal promise to travel somewhere once a year, was to toughen me up! I traveled, backpacked actually, completely alone. It's the second time after my Asian trip last year and it seems to be working!

HUNGARIAN CITIES VISITED: Buda and Pest, Szentendre, Eger.
TOP 8 THINGS TO SEE/DO IN HUNGARY
1. Turkish Gellert Thermal Baths -- Great after a long day of back packing

2. Matyas Church -- Beautiful paprika patterned roof and a very unique and decorative interior.

3. Gellert Hill Park Area (Cave Church)

4. Skanzan, the open-air Hungarian museum in Szentendre, a suburb next to BudaPest. Half to Full Day Trip.

5. St. Stephen's Basilica and the Parliament Building in Pest.

6. Go to a traditional hungarian restaurant and listen to live music from Roma gypsies.

7. You must try all the various Hungarian desserts -- simply delicious!

8. The city of Eger is beautiful with a large cathedral, a beautiful university, and interesting historic monuments.




BEST MEMORIES FROM HUNGARY
The Skanzan was an unforgettable experience -- such a wide outdoor museum.

Learning all about Eger, a small town in Western Hungary, who succesfully fought the Ottoman/Turkish Empire by using tactics such as pouring boiling lard on soldiers below.

Seeing a church engulfed in a cave in BudaPest.

The beautiful bridges in BudaPest that extend across the Danube River.




FAVOURITE FOODS / DRINKS IN HUNGARY
Rich Hungarian desserts

Mashed potato pastry snacks

Sweet cottage cheese filled pastries

Paprika and sour cream sauces

Langos (fried pizza dough with salt or sugar sprinkled on it)

Goulash soup!




REALLY WEIRD FOOD / DRINKS
(SOME EVEN I COULDN'T GATHER THE COURAGE TO TRY!)
I wasn't crazy about their herbal alcoholic drink, Unicom (Hungarian word that means "unique" in its direct translation).

Hot Paprika Brandy (!!)... and you thought Bloody Caesars were spicy!
PHOTO GALLERY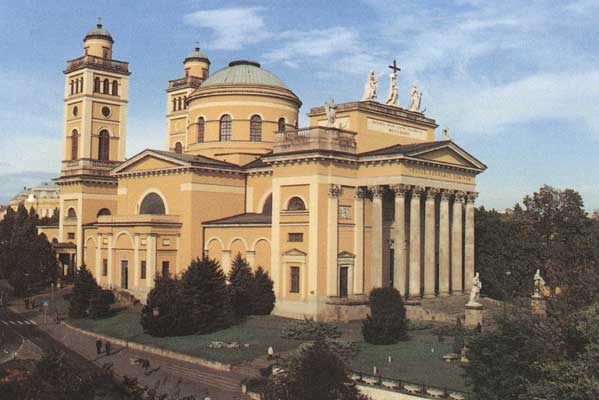 WHAT WOULD I DO IN HUNGARY WHEN I RETURN?
Go to Pannonhalma to listen to the gregorian chants on Sunday morning!

include_once($_SERVER['DOCUMENT_ROOT']."/include/footer.php"); ?>