include_once($_SERVER['DOCUMENT_ROOT']."/include/header.php"); ?>
Welcome to Hong Kong!

Oct/Nov 2000 -- Southeast Asian Tour (2 weeks; 5 days in South Korea, 7 days in Thailand, 3 days in Hong Kong)

After having gone to Japan and yet another Pad Thai meal in Toronto, I was thirsty for more travelling in Asia... Hence, I decided to visit South Korea, Thailand, and Hong Kong for a fall asian whirlwind tour! I got a chance to visit some friends (Rebecca, David, Jenny, and Sherman)... and a real culinary challenge for my tastebuds.

Plus, having started in -5 degrees celsius Korea, then going to +30 degrees in Bankok, and then 15 degrees in Hong Kong... it's a shock I didn't come home with the sniffles.
TOP 8 THINGS TO SEE/DO IN HONG KONG
1. Go see the Big Buddha -- a huge 40 foot buddha on interesting temple grounds

2. Go to "ThePeak" for a beautiful bird's eye view of downtown's skyscrapers

3. Wong Tai Sin Temple is a beautiful and active temple to see

4. Art Museum, Kowloon -- Interesting Chinese artwork, nice place for a boardwalk promenade.

5. Eat Peking duck (for dinner) and dim sum (for breakfast / lunch)

6. Stroll around in Hong Kong's downtown night markets -- for cheap goods and great street food (ie. Octopus on a stick, Snake soup)

7. Enjoy turtle pudding -- looks like black jello, tastes like jello'd coffee, but it's supposed to be good for "longevity" (they have it with maple syrup to cover the bad taste)

8. Go shopping! Tons of gadgets, etc., to see. Careful, Hong Kong is an expensive place.


BEST MEMORIES FROM HONG KONG
TALL SKINNY "CLONE" APARTMENT BUILDINGS
MOUTAINOUS VIEW - More greenery than I had expected
SUPERSTITION RUNS RAMPANT IN HONG KONG (Just look at their elevators - no floors with the number 4, until floor fourty)
THROWING PENNIES ON A TURTLE HEAD IS GOOD LUCK
EATING TURTLE PUDDING (with Maple Syrup) IS GOOD FOR LONGEVITY
KOWLOON ART MUSEUM -- LOOKS LIKE THE NIKE SWOOSH
FRIENDLY BIG BUDDHA
TWO LEVEL STREET CARS



FAVOURITE FOODS / DRINKS IN JAPAN
Peking Duck
Tapioca Mango Drink
Octopus on a stick (delish street food)
Chocolate covered jujubes
Dim Sum for breakfast every day from Jenny's mom! (!!Need I say more!?!)



REALLY WEIRD FOOD / DRINKS
(SOME EVEN I COULDN'T GATHER THE COURAGE TO TRY!)
Turtle Pudding (very bitter, so maple sugar is served with it)
Jellyfish (Crunchy but really bland!)
Snake Soup (The snake was hard to taste as it was minced, but the soup was delish)
Tea-Flavoured Eggs (very tasty! Interesting looking too!)

LEARNING CANTONESE
For those of you interested in learning Cantonese, I have returned with some neat catch phrases;

GREETINGS:
Good Morning / Day -- neihhoumah (nay-ho-maw)

POLITE PHRASES:
Thank you / Excuse me / Please -- mgoi (m-go-ee)

Yes -- Hai (ha-ee)
No -- Mhai (m-ha-ee)

Delicious - Ho Sei (ho-say)


PHOTO GALLERY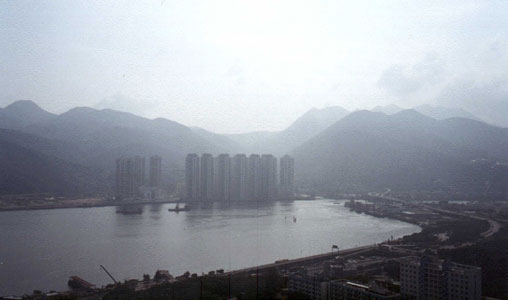 WHAT WOULD I DO IN HONG KONG WHEN I RETURN?
Spend more time seeing and experiencing the culture (now that I've done most of the "touristy" activities).

include_once($_SERVER['DOCUMENT_ROOT']."/include/footer.php"); ?>