include_once($_SERVER['DOCUMENT_ROOT']."/include/header.php"); ?>
Welcome to Germany!

European Tour (1 mnth) & Study Exchange in Switzerland (3 mths)

Upon returning from Japan for my first trip outside of North America and mid-way through my studies at university, I realized that I desperately wanted to go on a study exchange in Europe.

Luckily, Ivey, my business school, offered such a program and ultimately allowed me to visit the school of my choice -- Sanct Gallen Universitat, in St. Gallen, Switzerland, which featured a program on European Business. I was ecstatic!

Prior to beginning my course (European schools begin classes in October vs. September in North America) I decided to take a whirlwind tour of Europe for a month. It was fantastic. In one shot, I visited cities across Italy, Switzerland, Spain, France, England, Holland, and Germany. Later, during my studies at St. Gallen I also visited Luxembourg and Austria.

CITIES/TOWNS VISITED IN GERMANY: Munchen, Fuessen, Heidelberg, Frankfurt, Koln, Rudesheim, Rhine River, Nuernburg, Konstanz.
TOP THINGS TO DO/SEE IN GERMANY
1. Go to Colone (Koln) to see the magnificent church (one of the biggest churches in Europe). Colone also has many museum.
2. Take the Rhine river tour by boat and/or by car (it is even better if you can stay in one of the castles overnight). 3. Visit Rhudesheim, a small little village at the bottom of the Rhine, near Mainz. It has a hidden castle (see picture), a Falconry, beautiful vineyards, and some museums. 4. Visit the Neuschwanschtein Castle in Fuessen near Munchen (Munich) -- it is the castle that Disney developed his feature castle from. The $10 tour inside is definitely worthwhile! 5. Nurnberg was nice as well (had a nice castle and a cool weekend market) 6. Octoberfest in Munich is a must see, unless you really hate crowds(end of September) -- but make sure you make reservations at least one month in advance. 7. Dachau, the concentration camp in Munich is also worth a sobering day trip 8. Frankfurt is a strong commercial area (good for shopping if that is your interest), but there is not that much to do or see culturally other than the restaurants and bars. 9. Konstanz is a quaint little town -- nice (but not need) to see. The swiss go there for cheap shopping. 10. Heidelberg has a great castle to see (cool gargoyles).


BEST MEMORIES FROM GERMANY
Meeting a travelling carpenter at Colone -- this a very traditional job, going from one city to another looking for small jobs, with no more than a walking stick and a small bag of hygene and linen for sleeping. They don't even carry a change of clothes. They wash it daily.




FAVOURITE FOODS / DRINKS IN GERMANY
Apple Wine
Kneddly
German Worst
Bretzel (they call them Bretzels here not pretzels)
Curry Ketchup -- it is so good. It is a typical condiment in Germany



PHOTO GALLERY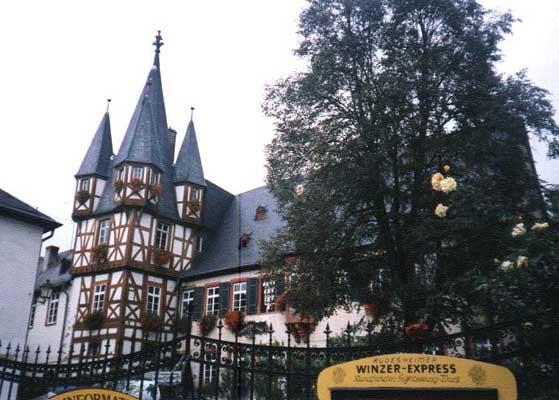 WHAT ELSE WOULD I DO IN GERMANY?
Stay in one of the old German castles along the Rhine river.
Check out the Berlin love festival
Visit my friends in Eastern Germany (Andy, Judith, Anja, Thomas)


include_once($_SERVER['DOCUMENT_ROOT']."/include/footer.php"); ?>