include_once($_SERVER['DOCUMENT_ROOT']."/include/header.php"); ?>
Welcome to France!

European Tour (1 mnth) & Study Exchange in Switzerland (3 mths)

Upon returning from Japan for my first trip outside of North America and mid-way through my studies at university, I realized that I desperately wanted to go on a study exchange in Europe.

Luckily, Ivey, my business school, offered such a program and ultimately allowed me to visit the school of my choice -- Sanct Gallen Universitat, in St. Gallen, Switzerland, which featured a program on European Business. I was ecstatic!

Prior to beginning my course (European schools begin classes in October vs. September in North America) I decided to take a whirlwind tour of Europe for a month. It was fantastic. In one shot, I visited cities across Italy, Switzerland, Spain, France, England, Holland, and Germany. Later, during my studies at St. Gallen I also visited Luxembourg and Austria.

CITIES/TOWNS VISITED IN FRANCE: Paris, Colmar.
TOP THINGS TO DO/SEE IN FRANCE
1. Typical Tourist Stuff: Eiffel Tower (though I didn't go up -- it cost $20!!), Arc De Triomphe, Shopping on Champs Elyses, Le Louvre Museum is world renowned and will keep you busy for a day.
2. Buying breakfast or lunch from the baker, vegetable and fruit shop, and the meat shop. They have separate stores for everything!
3. Nothing beats stopping for a coffee in one of Paris' many cafes.
4. We visited Paris' oldest university, La Sorbonne. Interesting place -- looks as old as it is. ;c)
5. The Notre Dame Cathedrale -- interesting gargoyles.
6. Colmar, Alscace is a nice small town area with beautiful and large churches and interesting tradition (though I was only there for the day and probably could have seen even more had I stayed longer).


BEST MEMORIES FROM FRANCE
Discovering unripened dates from the fruit & vegetable store!

Watching 2 civil servants windexing (cleaning the windows of) a phone box in two minutes flat -- unbelievably quick!




FAVOURITE FOODS / DRINKS IN FRANCE
Salty Crepes (with eggs and ham)
Sweet Crepes (with nutella and bananas)
Unripened Dates!!



PHOTO GALLERY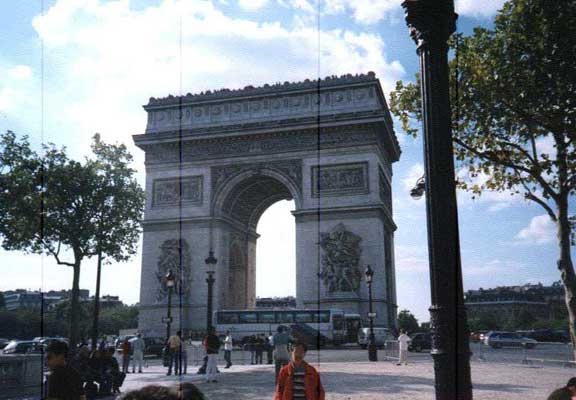 WHAT ELSE WOULD I DO IN FRANCE?
Spend more time in Paris seeing the non-touristy things (especially the restaurants, the nightlife, the cafes).
Go to the roof of the Notre Dame Cathedrale to see the gargoyles up close if I can
Go see chateaux de versailles - we had run out of time
Visit neighbouring towns and other French cities


include_once($_SERVER['DOCUMENT_ROOT']."/include/footer.php"); ?>