include_once($_SERVER['DOCUMENT_ROOT']."/include/header.php"); ?>
Welcome to England!

European Tour (1 mnth) & Study Exchange in Switzerland (3 mths)

Upon returning from Japan for my first trip outside of North America and mid-way through my studies at university, I realized that I desperately wanted to go on a study exchange in Europe.

Luckily, Ivey, my business school, offered such a program and ultimately allowed me to visit the school of my choice -- Sanct Gallen Universitat, in St. Gallen, Switzerland, which featured a program on European Business. I was ecstatic!

Prior to beginning my course (European schools begin classes in October vs. September in North America) I decided to take a whirlwind tour of Europe for a month. It was fantastic. In one shot, I visited cities across Italy, Switzerland, Spain, France, England, Holland, and Germany. Later, during my studies at St. Gallen I also visited Luxembourg and Austria.

CITY VISITED IN ENGLAND: London.
TOP THINGS TO DO/SEE IN ENGLAND
Big Ben
Tower Bridge
The London Dungeon (cheesy but entertaining)
Fleet Street (London's equivalent of Wall Street)
Covent Gardens (not a garden, just an area near the water to gather -- often sprinkled with entertaining buskers)
House / Museum of Sherlock Holmes (Can't go into the house itself - but the museum is neat)
Buckingham Palace (good to see it, but no need to stay for more than 5 minutes as you can't get in anyway. You can always see the changing of the guards, which is like the changing of the guards in every other country. ;c)
Buy a drink at a bar and drink it on the street... legally!!! (for North Americans, this is quite the treat -- of course the balance is that pubs are only open until 11pm, though clubs are open later).
BEST MEMORIES FROM ENGLAND
I find the English names for the subway interesting -- the "Tube" or "Underground"
Those red "superman" phone booths
I find that though there are European (Rennaissance/Gothic) elements in the architecture, it interesting to note that the industrial revolution had an influence in this medium (noted via the multitude of cement based buildings - which is typically rare in mainland Europe).
FAVOURITE FOODS / DRINKS IN ENGLAND
Yorkshire Pudding
Ginger Chocolate Bar (from Cadbury) - strange, but very tasty!
You will find a lot of great spicy and flavourful Indian and Indonesian restaurants in London. (This is to balance of the rather bland taste of British stews, etc.)
FAVOURITE SOUVENIRS
A very touristy "Underground" T-Shirt
Some great (but expensive) Acid Jazz CDs
PHOTO GALLERY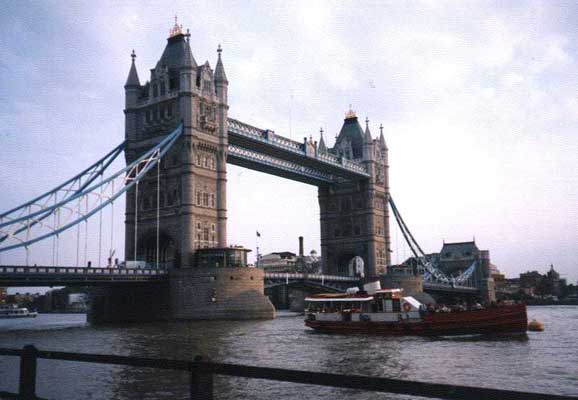 WHAT ELSE WOULD I DO IN ENGLAND?
Spend more time travelling in the countryside and across the neighbouring countries (to see the castles, etc.)
See the Tower of London and the Crown Jewels
Spend more time in the city
London is famed for great acid jazz (I want to see more of the London nightlife)
Drop by to see my buddy Rich of course...!!
include_once($_SERVER['DOCUMENT_ROOT']."/include/footer.php"); ?>