include_once($_SERVER['DOCUMENT_ROOT']."/include/header.php"); ?>
Part II - Quito, Mital Del Mundo, and Otavalo
Well, it has been three weeks since we've left Canada and we've got some new adventures in Ecuador to share with you!

Since my last e-journal, Dave and I have ...

1) Visited the middle of the world (the equator, at latitude 0°),

2) Gone driving around in the neighbouring Pinchincha mountains that surrounds Quito with Bernardo, our Quito hostal manager (Folklore Hostal),

3) Visited Otavalo, the largest indigineous market town in Ecuador (and stayed in a country cabin with a fireplace in the room!!), and

4) Climbed the "Earth's Belly Button", a 280 meter tall mountain inside an extinct volcanic crater (this mountain is right on the equator and is known as a sacred mountain for certain religious groups). -- pictures not yet available.

See below for pictures of these adventures...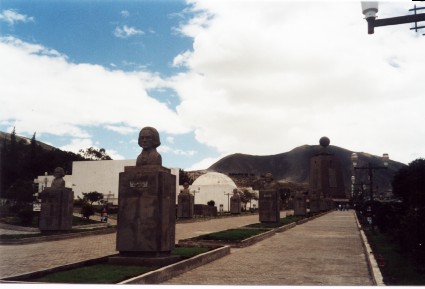 The other good news is that we've found a nice apartment in Quito's downtown area, but outside enough from the tourist area that the locals aren't as leary of us. We'll be sharing a huge apmt (which is bigger than my old apmt in Toronto) with two other people who the landlord has not yet located (and we'll help to interview). The great news was that the apmt cost only $160 per month and is in a very safe and central area... and again, five minutes from a grocery store!! Woohoo!!
I have also decided to volunteer some of my time at the South American Explorer's Club, which should provide us with lots of good leads and info for great adventures around here in South Am. As far as other opportunities, it is still up in the air!
In terms of travel plans ahead, I have departed to the Galapagos Islands a few days ahead of our 8-day cruise/tour to do some additional diving. Hope to see Manta rays, Eels, Hammerhead sharks and Puffer fish... I'll let you know!
Hasta Luego (until later),
Natia
include_once($_SERVER['DOCUMENT_ROOT']."/include/footer.php"); ?>