include_once($_SERVER['DOCUMENT_ROOT']."/include/header.php"); ?>
Welcome to The Czech Republic!

Sept./Oct. 2001 -- Eastern European Tour (16 Days)

I have always been curious about Eastern Europe, Czech Republic in particular for no good reason (I liked their country's name and their stamps -- talk about judging a book by its cover). Hungary's draw to me has always been culinary -- my family has always made all sorts of hungarian meals (from my father's family)... I had to see what it was really like in the country of origin! (My conclusion... delicious!... but my mom's special touch will always taste better to me!).
Another reason for this trip, apart from fulfilling my personal promise to travel somewhere once a year, was to toughen me up! I traveled, backpacked actually, completely alone. It's the second time after my Asian trip last year and it seems to be working!

CZECH REPUBLIC CITIES VISITED: Praha (Prague), Karlstejn, Kutna Hora, Cesky Krumlov.



TOP 10 THINGS TO SEE/DO IN THE CZECH REPUBLIC
1. Go to a Prague Tea House (a truly unique, non touristy experience!).

2. Go see Kostnice (the ornately and macabre Ossuary) in Sedlec, which is walking distance from Kutna Hora (next to Prague).

3. Walk through a man-made mine at Kutna Hora.

4. See the Don Giovanni Puppet Show in Prague -- very fun to watch

5. The castle district and cathedrale in Prague is very nice.

6. See Charles Bridge (and climb the tower for a great view!), Prague

7. See Fred and Ginger building, Prague

8. Cesky Krumlov is one of the most beautiful medieval town (cobblestone roads, an amazing castle, a huge castle gardens!)

9. Karlstejn's Castle tour is impressive and a must not miss experience if you like castles.

10. If you like strong drinks, you should try Becherovka (a nice spicy drink (NOT as in "hot")).




BEST MEMORIES FROM CZECH
SEEING THE BEARS IN THE CESKY KRUMLOV CASTLE MOATS

THE WHOLE PRAGUE TEA HOUSE EXPERIENCE

READING FRANZ KAFKA'S THE TRIAL and MEDITATIONS

MEETING SOME CRAZY AND FUN EASTERN EUROPEANS IN THE HOSTEL IN CESKY KRUMLOV AND PLAYING THE GERMAN VERSION OF MONOPOLY

LISTENING TO ALL SORTS OF CZECH CDs IN THE MUSIC STORE (I ended up buying a few)

ODD ELEVATORS (without inside doors)

THE KOSTNICE WAS A REALLY MORBID EXPERIENCE

THE PUPPET SHOW




FAVOURITE FOODS / DRINKS IN CZECH
I really loved their garlic soup!!

I was also impressed with their national alcoholic spirit, "Becherovka"!

The potato and bread dumplings are tasty -- but nothing to be really excited about.

Street food is nice as well -- I had the sausage with a piece of rye bread (most popular street fare), "fried cheese" on a kaiser (that was yummy!).

I was delighted to see "Bear Foot" on the menu in one of the restaurant... I ordered it immediately. However, when I got it, it was a folded piece of beef with cheese in between. It was good, but not what I had hoped for. ;c(

Rule of thumb: If you like meat, this is a good place to visit.




REALLY WEIRD FOOD / DRINKS
(SOME EVEN I COULDN'T GATHER THE COURAGE TO TRY!)
Streetfood: "Forcemeat" on a kaiser (what a burger would look like if it was made of the same ingredients as a hotdog... weird).

Absinthe: Tried it, but was not impressed (I didn't really like the black licorice flavour that it exuded anyways).




TRAVEL JOURNALS
Prague (Czech Republic) - Part 1
Cesky Krumlov (Czech Republic) - Part 2
Kutna Hora / Sedlec (Czech Republic) - Part 3
PHOTO GALLERY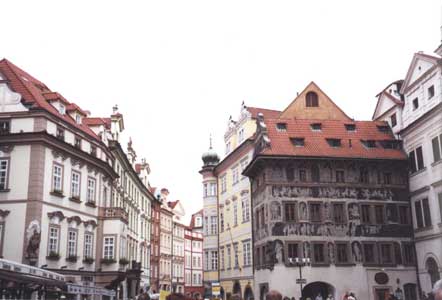 WHAT WOULD I DO IN THE CZECH REPUBLIC WHEN I RETURN?
I would visit more of the smaller towns and villages in the East.

I would also make a special trip to visit Slovakia to get a better sense of how the two countries differ (ie. Levoca is supposed to be a gorgeous place in Slovakia to see).

I would probably also go to see an opera at Prague.

include_once($_SERVER['DOCUMENT_ROOT']."/include/footer.php"); ?>