include_once($_SERVER['DOCUMENT_ROOT']."/include/header.php"); ?>
Welcome to Holland!


European Tour (1 mnth) & Study Exchange in Switzerland (3 mths)

Upon returning from Japan for my first trip outside of North America and mid-way through my studies at university, I realized that I desperately wanted to go on a study exchange in Europe.

Luckily, Ivey, my business school, offered such a program and ultimately allowed me to visit the school of my choice -- Sanct Gallen Universitat, in St. Gallen, Switzerland, which featured a program on European Business. I was ecstatic!

Prior to beginning my course (European schools begin classes in October vs. September in North America) I decided to take a whirlwind tour of Europe for a month. It was fantastic. In one shot, I visited cities across Italy, Switzerland, Spain, France, England, Holland, and Germany. Later, during my studies at St. Gallen I also visited Luxembourg and Austria.

CITY VISITED IN HOLLAND: Amsterdam.
TOP TEN THINGS TO DO/SEE IN AMSTERDAM
Anne Frank Museum
The canals and all the beautiful coloured houses.
The Klompenboer museum (this is nothing more really than a small shop that makes clogs)
Walk along the street to see all the cannabis stores, museums, schools, and other fine institutions.
Europe's smallest house (you can find the address and directions in your tour book). Note though, that even though it looks impossible to live in by the size of the front, the house is really shaped in a triangle, so that the back end is wider.
There is the erotica museum, which has an interesting rendition of snow white and the seven dwarves (woah!)
The red light district is also something to see... just don't get too nosey or friendly, unless you've got those kind of intentions.
Heinekken brewery tour... we tried to go twice during our trip in September, but it was packed and we had to show up at least half an hour early. So we didn't see it in the end, to Sean's dismay, more than mine or Natasha's.
BEST MEMORIES FROM AMSTERDAM
Our stay in this crazy bed&breakfast was one of the most memorable part of the trip. Ursula Schonau, an old Canadian, was the keeper of this temporary residence. She had very strict rules (ie. shower only for 5 minutes), but had very comfortable rooms, no curfew, and an entertaining demeaner. Worth it to stay, if you can follow the rules,... and she particularly likes Canadians.
FAVOURITE FOODS / DRINKS IN AMSTERDAM
I had this interesting and tasty Green liqueur in Amsterdam... (and it wasn't absinthe)... can't quite remember was it was.
REALLY WEIRD FOOD / DRINKS
(SOME EVEN I COULDN'T GATHER THE COURAGE TO TRY!)
PHOTO GALLERY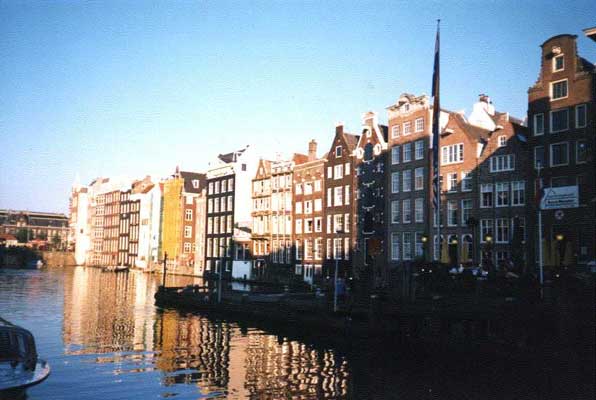 WHAT ELSE WOULD I DO IN HOLLAND?
Take a bike tour of Amsterdam
Take also a canal tour of Amsterdam
Go see the windmills
Spend more time in Amsterdam in general (we only there for a few days)
include_once($_SERVER['DOCUMENT_ROOT']."/include/footer.php"); ?>