Tropical Coconut Crepe Cake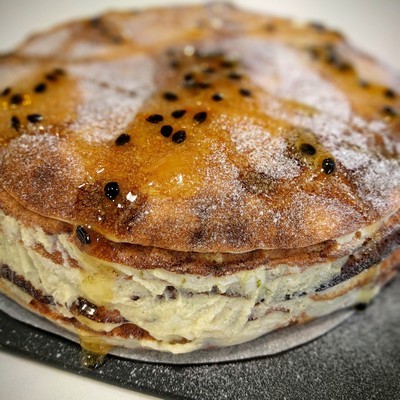 Ingredients (Coconut Custard):
7 Egg Yolks (use the whites for another recipe)
180g Caster Sugar
3 tsp Grated Lime Zest
2 tbsp Cornflour
200ml Milk
400ml Coconut Milk
200ml Pure Cream
90g Dessicated Coconut (about 1 cup) - Preferably moist coconut flakes
Ingredients (Crepes):
150g Plain Flour, sifted
3 Eggs
2 tbsp Caster Sugar
40g Unsalted Butter, melted, cooled, plus extra melted butter to brush
250ml Coconut Milk
300ml Milk
Icing sugar, for dusting
Ingredients (Passionfruit Caramel):
170g Passionfruit Pulp (from about 6-8 passionfruits) for about 125ml pure juice
150g Caster Sugar
Special Equipment:
20cm diameter non-stick crepe pan (exactly the right width for a medium sized crepe)
Instructions:
Start with the coconut custard

In a large glass bowl, whisk together egg yolks, caster sugar, zest, cornflour and a pinch of salt.
In a medium pan, over medium-high heat, combine warm milk, coconut milk and cream.
Bring to steaming, just below the boiling point. Remove from heat.
while whisking the egg mixture constantly, pour the hot cream mixture gradually overtop.
Return mixture to the now empty saucepan and cook gently over low heat for 5-6 mins, stirring continuously, until mixture has thickened.
Stir in dessicated coconut, then transfer to a heat proof bowl. Cover the surface with plastic wrap and chill until needed.

Then proceed to make the crepes

In a large bowl, first combine eggs, sugar and cooled melted butter.
Add the coconut milk and the sifted flour. Mix until just combined, then add the milk.
Stand at room temperature for 30 mins.
Grease the crepe pan with canola oil spray or a tsp of butter (the later will be a touch tastier).
Pour in just enough batter to coat the base of the pan, swirling the pan to coat it evenly. Cook each side for 1-2 mins until lightly golden. Place crepe on a plate lined with baking paper (separate each crepe with baking paper).
Repeat with remaining batter, brushing the pan with more butter as needed.
Once completed, let crepes cool to room temperature.
Line a 20cm diameter springform pan with plastic wrap, leaving plenty overhanging the sides.

Now for the assembly of the crepe cake

Once cooled, place the first crepe in the bottom of the lined springform pan.
Place a few tbsp of the coconut custard cream over top the crepe and spread to a thin layer.
Continue alternating with remaining crepes and custard, finishing with just a crepe.
Fold over the overhanging wrap to cover, then press down in the middle gently to flatten it out as much as possible.
Place it in the fridge for 4 hours or overnight until set.

The final touch - making the passionfruit caramel

strain through a sieve to loosen the seeds from the pulp. Reserve 1/4 cup of the seeds - discard the remaining seeds.
Measure 1/2 cup (125ml) passionfruit juice and set aside.
In a small saucepan, over low heat, cook caster sugar and 30ml water, stirring until sugar dissolves.
Increase heat to medium and cook without stirring for 3-4 mins until a golden caramel forms.
Remove from heat and carefully stir in the passionfruit juice. Return to low heat and carefully stir for 1-2 mins until thickened.
Cool slightly, then mix in the passionfruit seeds in and cool completely.
When ready to serve, remove the cake from the fridge about 15 mins before serving. Dust cake with icing sugar and serve with the passionfruit caramel.

Mango Yoghurt Jelly Cake with Jelly Fruit Top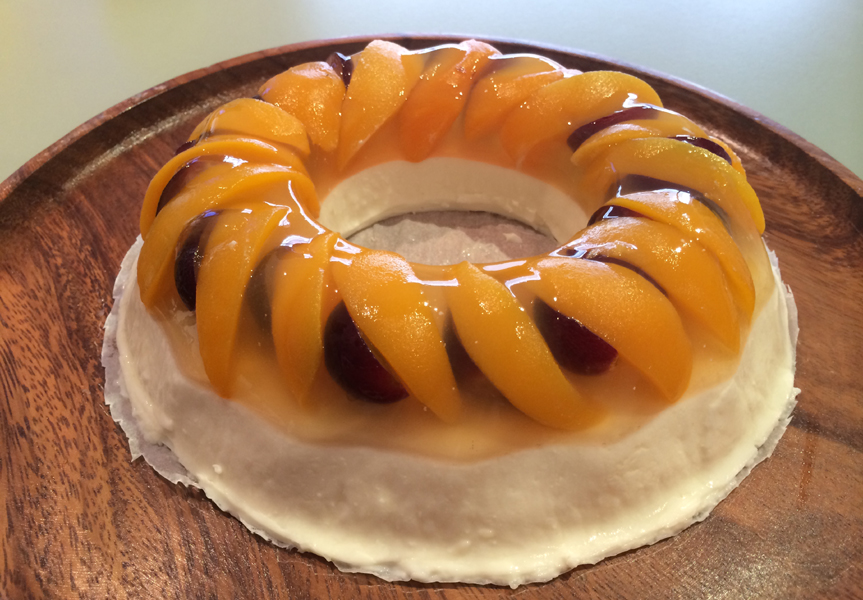 Note: Yoghurt part is a little bland, even with this hacked recipe using vanilla & honey yoghurt, so may be worth finding a stronger flavour or mixing more fruit in because the top part is quite fantastic looking and tasting.
Ingredients for the Jelly Top :
1 large can of Peach slices
10 Red Seedless Grapes, halved
300ml Sugar Syrup from canned peaches
1.5 tsp Gelatine Powder
Vegetablet Oil Spray or 1 tsp vegetable oil, for greasing
Ingredients for the Yoghurt Cake :
500ml Mango & Vanilla Flavoured Yoghurt
100ml Milk
2 tsp Sugar
15g Gelatine Powder
Instructions for the Fruit Jelly :
In a small saucepan, combine syrup and gelatine thoroughly.
Bring to a low heat, stirring continuously until all the gelatine has dissolved. Be sure not to bring the syrup to a boil. Set aside to cool.
Grease a crown cake mould and lay out the slices of peaches and grapes intermittently, so a grape half is always between two peach slices.
Then, very gradually, pour the gelatine mixture into the mould until the mixture covers the fruit without disrupting their positions.
Freeze for 1 hour.
Instructions for the Yoghurt Cake :
Combine in a medium saucepan, milk, sugar and gelatine powder - Do not yet turn on the heat. Stir well and set aside for 5 mins.
Bring the heat to low and wait until the gelatine dissolves, stirring continuously.
Remove from the heat, add yoghurt and stir to combine.
Let cool to room temperature and then pour the yoghurt mixture into the mould on top of the fruit jelly.
Freeze for 2 hours and then store in the fridge. Or, simply place in the fridge for 4 hours.
To serve, fill a large bowl with boiling water and dip the crown mould into the boiling water (without letting the water touch the cake itself) for 20 seconds to make it easier to release the jelly from the mould when it's ready.