Herbs & Spices Scrambled Eggs
Ingredients:
2 tbsp Vegetable or Canola Oil
3/4 tsp Cumin Seeds
1/4 tsp Caraway Seeds
1 Small Brown Onion, chopped finely
10g Fresh Ginger, finely cut into miniscule 3mm cubes or grated
1 Red Chilli, finely chopped
1/4 tsp Ground Turmeric
1/4 tsp Ground Cardamom
3/4 tsp Salt
1/2 tsp Tomato Puree
4 Medium Tomatoes, peeled and diced into 2cm cubes
3 tbsp Parsley, chopped finely
8 Eggs, beaten
3 Spring Onions, finely sliced (for serving)
10 Coriander Sprigs, chopped (for serving)
1/4 tsp chilli flakes (for serving)
Salt & Pepper, to taste (for serving)
Instructions:
In a large, non-stick, frying pan, over medium heat, combine the oil, cumin seeds, caraway seeds, onion, ginger and chilli.
Cook for 8 mins, stirring, until onion is soft.
Add the turmeric, cardamom, tomato puree and salt. Stir through and cook for 2 mins.
Add the chopped tomatoes and cook for 8-10 mins more, until the mixture is mostly dry.
Add the eggs and chopped parsley, reduce the heat to medium-low, cooking for about 3 mins and continuously, but gently, scrape the base of the pan with a non stick spatula. You want large, curd-like folds, eggs that are soft and moist.
Serve warm with the spring onion, coriander and chilli flakes.

Oeufs en Meurette (Poached eggs in red wine sauce with mushrooms)
Serves 4.

Ingredients:
500ml Beef Stock
375ml Red Wine (preferably Pinot Noir)
2 tsp White Wine Vinegar
4 Eggs
20g + 20g Unsalted Butter (second 20g is to be melted)
100g Bacon Rashers, chopped into 1cm strips
8 Spring Onions (with bulbs)
100g Button Mushrooms, quartered
1.5 tbsp Plain Flour
2 tbsp Chopped Thyme Leaves, for serving
8 Sliced Toasted Sourdough Bread, for serving (optional)
Instructions:
In a medium sized soup pan, over medium heat, bring stock and wine to a boil.
Simmer for about 12-15 mins until reduced to 1 cup. Set aside and keep warm.
Meanwhile, in a separate large soup pot, over medium-high heat, bring 4 cups of water and the vinegar to the boil for poaching the eggs.
Crack eggs gently into the water and poach for 3-4 mins or until the whites are set but yolks are still runny. Remove with a slotted spoon and set aside. Keep warm.
In a frying pan, over medium heat, melt 20g of the butter. Add the bacon and onion and cook, while stirring, for 5 mins.
Add the mushrooms and cook for a further 2-3 mins. Remove the mixture with a slotted spoon and keep warm.
In a small bowl, mix the melted 20g of butter with the flour to form a smooth paste.
Gradually whisk the paste into the wine reduction until you have a light gravy. Return the gravy to a medium heat for 2-3 mins to cook through the flour.
Finally, prepare the plate by placing first some wine gravy at the bottom of the bowl, then the bacon mushroom mixture, and topping it with the poached eggs and thyme. Serve immediately with toasted sourdough for dipping.

Giant Swiss Potato Rosti with Bacon Bits (with Red Currant Sauce)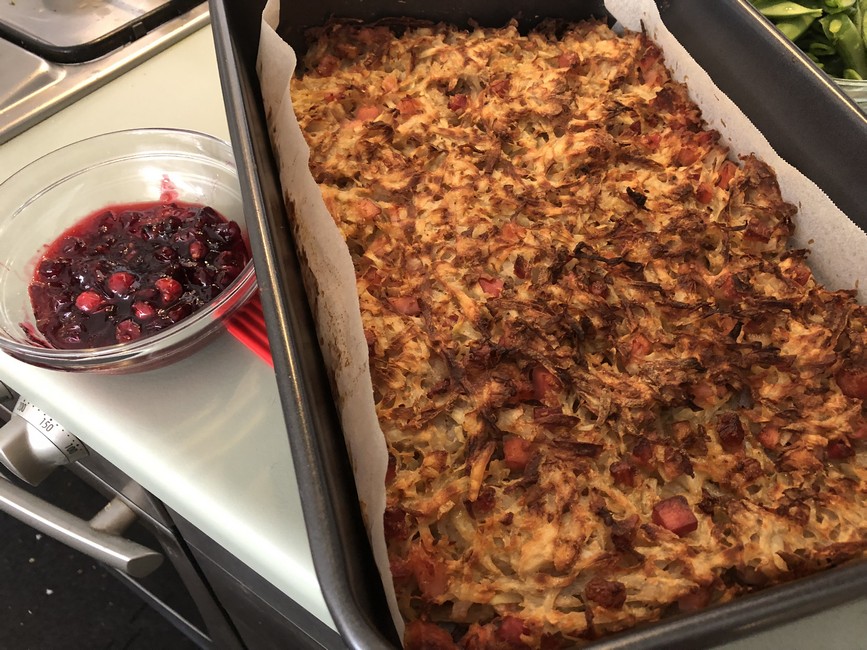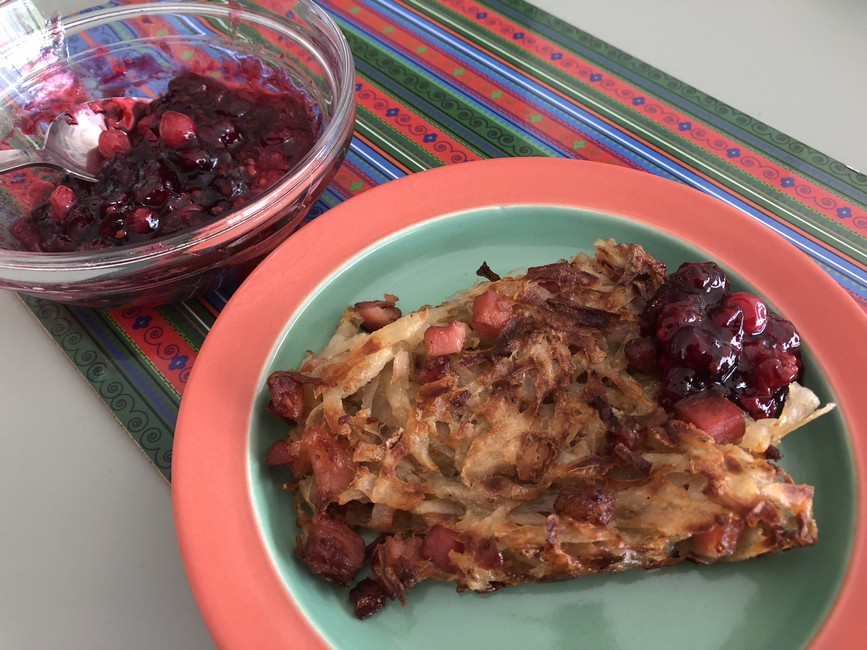 Serves 8.

Ingredients (Rosti):
800g Baking Potatoes, skins on, grated (such as Russet, the ones with the dirt still on them)
3 tbsp Flour
1 tsp Salt
Pinch of Black Pepper
Pinch of Nutmeg
150g Diced Bacon
2 tbsp Butter, cold and chopped into tiny 1/2 cm cubes
Ingredients (Red Currant Sauce):
75ml White Wine or Dry Vermouth
6 tbsp Caster Sugar
300g Fresh Red Currants, remove stems
Instructions:
Preheat oven to 200C.
In a large bowl, grate all the potatoes.
Mix in flour, salt, pepper and nutmeg. Toss until well blended.
Mix in 2/3rds of the bacon into the potato mixture.
On a baking pan (which is at least 1cm deep), pour in the potato mixture and cover the base to form a thin layer.
Scatter remaining diced bacon across the potato mixture.
Scatter tiny butter cubes across the potato mixture.
Bake for 40 mins until golden.
Flip mixture upside down onto another baking sheet and crispen up the other side (10-15 mins more).
Meanwhile, prepare the red currant sauce. In a small saucepan, combine the white wine, sugar and half the red currants.
Bring to a boil, then reduce to a simmer and cook for 5-10 mins.
Turn off heat and stir in the remaining red currants.
Serve warm slices of the rosti topped with a dollop of red currant sauce.

Mediterranean Tomato & Olive Tart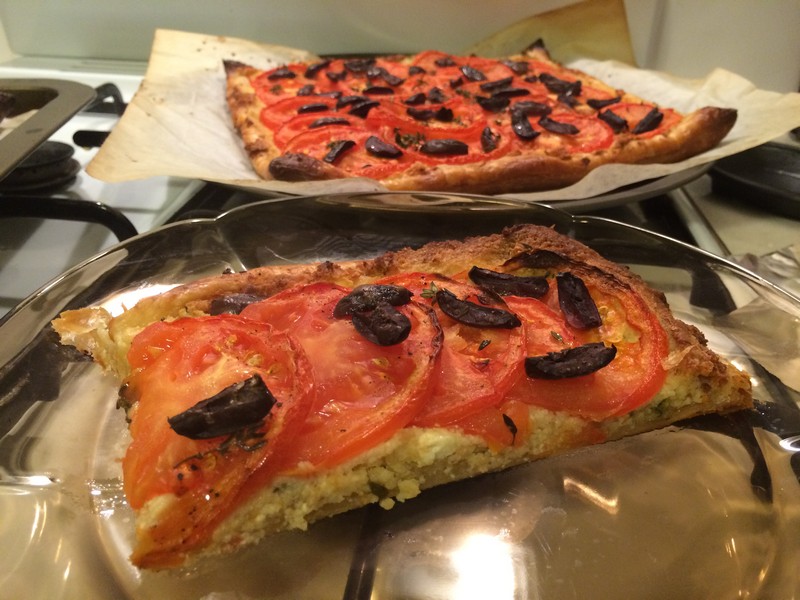 Serves 8

Ingredients:
140g Unsalted Butter, room temperature
2 Eggs, lightly beaten
65g Breadcrumbs
80g Ground Almonds
2 Garlic Cloves, crushed
100g Ricotta
20g Parmesan, finely grated
15g Thyme Leaves
375g All Butter Puff Pastry
Plain Flour for dusting
500g Medium Tomatoes (about 10), cut into 1cm slices
50g (about 24) Black Pitted Olives
2 tbsp Olive Oil
Salt and pepper, to taste
Instructions:
Preheat the oven to 220C.
Cream the butter until light and fluffy.
Add the eggs gradually, while mixing.
Mix in the breadcrumbs, ground almonds and garlic until just combined.
Add the ricotta, parmesan, half the thyme leaves and 1/4 tsp of salt. Fold until just combined and set aside.
Roll the pastry to create 2 rectangular sheets, approx. 20 x 30 cms, 2mm thick.
Line 2 baking trays with baking paper and lay your pastry on top, one on each tray.
Spread almond mixture evenly across the two pastry sheets, leaving a 2 cm border all around.
Lay the tomato slices on top of the almond mixture in three parallel rows, with a fair amount of overlap within each row and between them.
Sprinkle the olives and remaining thyme evenly across.
Drizzle with 1 tbsp of olive oil and season with salt and pepper to taste.
Bake 1 tray of pastry in the oven at a time (while the other sits in the fridge) and bake for 10-15 mins until it is golden and puffed. If you prefer to cook them both at the same time, swap the order of trays halfway through and cook for at least 15 mins.
Reduce the temperature to 200C, cover the top piece with aluminium foil and continue baking for another 8-10 mins, swapping tray order halfway again, until both are cooked through.
Remove from oven and drizzle with remaining 1 tbsp of olive oil. Serve warm.

Vegetable & Herb Ricotta Tart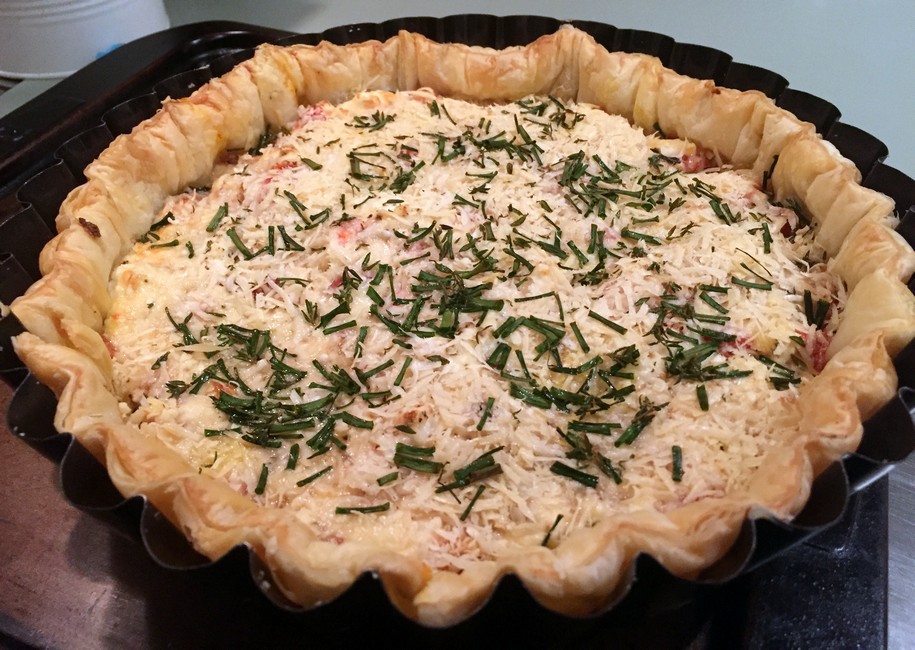 Serves 4-6

Ingredients:
2 Red Capsicums
4 tbsp Olive Oil
2-3 Sheets of Ready-made frozen Puff Pastry
2 Ripe Tomatoes, thinly sliced
250g Ricotta Cheese
100g Parmesan Cheese, grated
1 tsp Thyme Leaves
1 tbsp Fresh Chives, finely chopped
Salt and pepper, to taste
Instructions:
Preheat ovent to 200C.
Line the base of a pie tin (with removable base preferably) with baking paper.
Line the base of the pie tin with a layer of puff pastry (you may need to assemble 2 sheets together to make a circle that will fit the base of your pan.
Make a couple fork pricks into the pastry base and blind bake the pastry for 7 mins. Then remove the baking beads and continue baking until 90% done.
Set aside and let cool completely.
Cut capsicum into large flat sides, removing the seeds and stalks. Place capsicum into a bowl and toss with a tbsp of olive oil to coat evenly.
Place capsicum, skin side up, on a lined baking tray and bake until skins are charred. Set aside until cool, then remove the charred skins and slice the capsicum meat to thin strips.
Cut long rectangle strips of puff pastry and place around the sides of the pie tin, with just a 0.5 cm overlap with the cooked base, pressing down to connect them together.
Beat the ricotta until smooth in a bowl then dollop 1/2 of the ricotta evenly across the base of the pie tin, over the cooked dough.
Scatter the roasted red pepper strips over top.
Then arrange the tomato slices overtop.
Season with salt and pepper to taste.
Dollop the other half of the ricotta cheese overtop.
Then sprinkle over the parmesan cheese, thyme and chives.
Drizzle over 1-2 tbsp olive oil.
Bake in the oven for 20 mins until the pastry around the edges is golden and cooked through.
Serve warm.

Shrimp and Gruyere Cheese Grits with Bacon & Mushrooms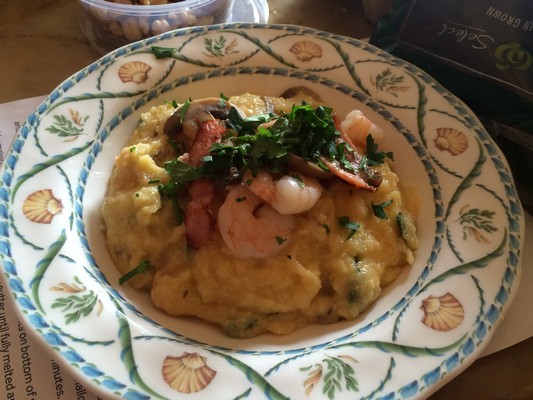 Lots of delicious flavour make this meal equally suitable for breakfast, lunch or dinner.
Serves 4-6

Ingredients:
5 3/4 Cups Chicken Stock
450g Large Raw Shrimps, deshelled and cut for butterflying (optional)
300g Fresh Mushrooms, thinly sliced
3/4 tsp Salt
1 Cup Grits - Polenta can be used as a substitute (not instant)
1 Cup Gruyere Cheese, grated
Freshly Ground Black Pepper
4 Slices of Streaked Bacon, diced
1 Medium Shallot, minced
2 Cloves Garlic, crushed and minced
1/4 tsp Cayenne Pepper
2 tbsp Unsalted Butter, cubed
1 tbsp Fresh Lemon Juice
2 tbsp Minced Fresh Herbs (eg. Parsley and Chives) + some for garnish
Vegetable Oil
Instructions:
In a large saucepan, over medium-high heat, combine stock and grits. Whisk frequently and bring to a simmer.
Lower heat to a bare simmer and cook, while stirring and scraping the bottom frequently to prevent them from sticking to the bottom, until grits are fully softened, about 20-30 mins.
Meanwhile, in a large skillet, heat chopped bacon over high heat until sizzling. Lower heat to medium and cook, until bacon has become crisp, about 5 mins. Using a slotted spoon, transfer the bacon to a paper towel to let it drain. Reserve bacon fat in a separate bowl.
Return the skillet to a medium-high heat and add 1-2 tbsp of bacon fat (ensure there is at least 2 tbsp in reserve, 1 tbsp for the shrimp, 1 tbsp for garnish). When hot, stir in mushrooms, until they release their liquid (about 3 mins). Stir in shallots, garlic and cayenne. Cook for 2 mins more until shallots have softened. Transfer mushroom aside to a separate bowl.
Return skillet with 1 tbsp of the bacon fat to high heat. When very hot and just before smoking, add shrimp and cook stirring frequently, remove when only a light trace of translucence remains in the center of each shrimp as it will continue to cook out of the pan. Transfer shrimp to a separate plate.
Add remaining 3/4 cup of stock to the skillet. Scrape up any remaining brown bits on the bottom of the pan. Lower the heat to medium-low and whisk in butter until fully melted and emulsified with the sauce. Remove from the heat and whisk in lemon juice. Stir in herbs and season with salt and pepper. Transfer stock to grits and combine well.
Grits should be close to completion now. Turn off heat. Stir in grated gruyere, salt and pepper. Allow to melt and stir to blend.
Divide the grits into the bowls, top with the mushroom gravy, shrimp, bacon, a couple drops of reserved bacon fat and some minced fresh herbs.

Fig & Walnut Porridge (GF)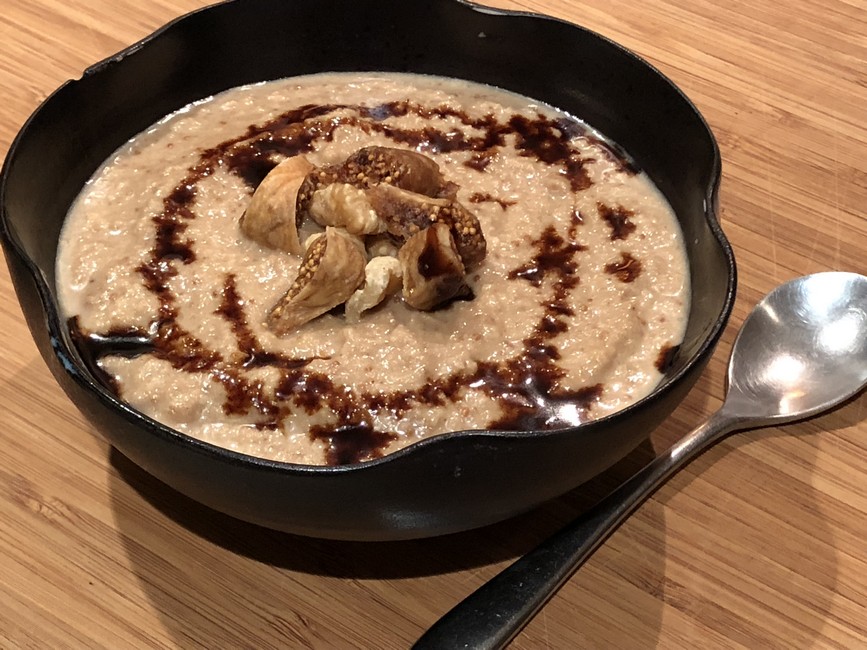 Serves 2

Ingredients:
10 Dried Figs + 1 extra chopped up for serving
500ml Milk
60g Walnuts, roasted + a bit extra for serving
2 tbsp Sweet Molasses
Instructions:
In a small bowl, place 10 figs and boiled water. Leave to soak for 15 mins.
Drain and remove the tough stalks.
Roughly chop these into a few pieces.
Warm the milk in a saucepan over low heat until it reaches a low simmer.
Add the chopped figs.
Using a hand held blender, mix to a puree.
Simmer for a further 5 mins. Stir well.
Add the roasted walnuts and blend again with the stick blender.
Simmer for another 5 mins.
Serve warm with pieces of dried fig, roasted walnuts and drizzled with molasses.

Mexican Spiced Eggs & Beef Breakie
Makes 4

Ingredients:
1/4 Cup Olive Oil
1 Onion, finely chopped
400g Beef Mince
1/4 Cup Chipotle Chilli Sauce (or another thick chilli sauce)
400g Can Chopped Tomatoes
1/3 Cup Roughly Chopped Coriander, plus extra to serve
4 Eggs
1 Jalapeno Chilli or Long Green Chilli, thinly sliced
Instructions:
Heat 1 tbsp oil in a large frypan (make sure to use a frypan that has a lid as we'll need it later), over medium-high heat.
Add onion and a pinch of salt. Cook, stirring, until soft for 4-5 mins.
Add the beef and cook for 5 more mins until browned.
Stir in the chipotle sauce, tomatoes and coriander. Season with freshly ground black pepper and reduce heat to medium.
Cook for a further 5-6 mins until slightly thickened.
Using a spoon, make four indents in the beef, then crack an egg in each indent (without breaking the yolk). Cover the frypan with a lid and cook for 7mins (or until the whites are all cooked).
Garnish with chilli and extra coriander.

Columbian Hangover Soup Changua (Garlic Soup with Poached Eggs)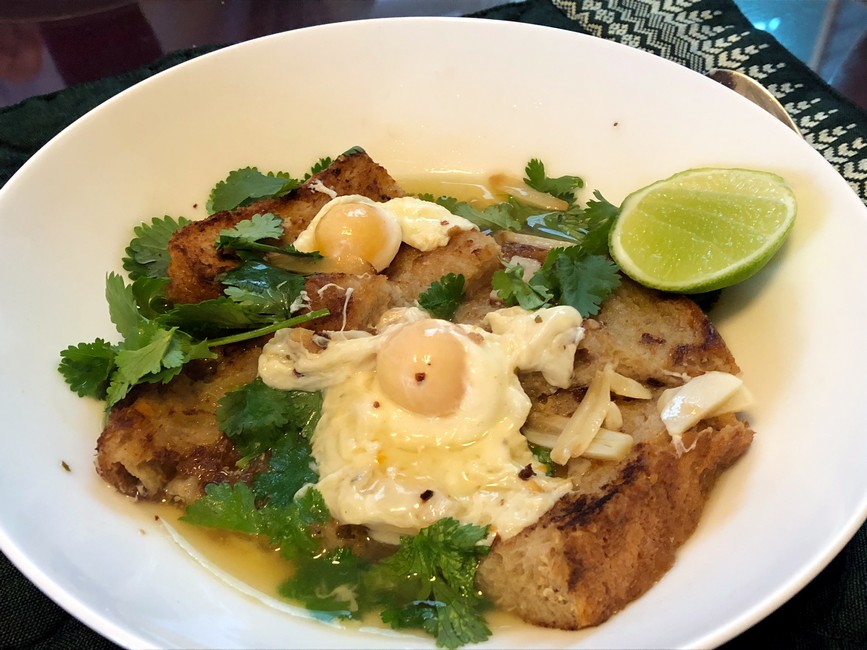 Makes 4

Ingredients:
1 Head of Garlic, cloves peeled and sliced thinly
3 tbsp Olive Oil
8 Baguette Slices
1 Litre Chicken Stock (some serve it with half water / half milk instead)
1/2 tsp Hot Pepper Flakes
4 Large Eggs
1/2 Cup Cilantro Leaves, chopped
4 Lime Wedges
Instructions:
In a deep skillet, over med-low heat, fry garlic slices in hot olive oil for 8-10 mins until tender and golden.
Transfer garlic to a bowl.
Fry bread slices to skillet for about 4 mins, turning once, until both sides are brown. Set toasted bread aside.
Simmer stock, red pepper flakes and garlic in the skillet for a min or two.
Break 1 egg into a cup. Slide the egg from the cup to the simmering stock.
Repeat with remaining eggs.
Poach at a bare simmer for 3-4 mins, until white are firm but yolks are still runny.
Transfer eggs to bowls, ladle soup and garlic slices over the eggs. Finally top with cilantro. Serve with lime wedges and toast pieces.

Asian Son-in-Law Eggs
Serves 6.
Prep 20mins. Cooking 15 mins.

Ingredients (Eggs):
6 Eggs, at room temperature
Vegetable Oil, for frying
1/4 cup Thinly sliced Green Shallots
1/4 cup Thai Basil Leaves
2 tbsp Fried Shallots
1 Long Fresh Chilli, thinly sliced diagonally
Ingredients (Chilli Caramel):
200g Palm Sugar, grated
100ml Water
2 tbsp Tamarind Concentrate
2.5 tbsp Fish Sauce
1 Lemongrass Stem, bruised, cut into 5cm pieces
1/2 tsp Dried Chilli Flakes
Instructions:
Boil eggs in a medium saucepan of boiling water for 6 mins. Drain and stop the cooking by running them under cold running water.
For the chilli caramel, place the sugar and water in saucepan over medium heat. Cook, stirring, for 2 mins until the sugar dissolves.
Add tamarind, fish sauce and lemongrass. Bring to a simmer.
Reduce eat to medium-low. Simmer for 5 mins or until mixture thickens slightly.
Remove from heat and stir in chilli flakes. Keep warm.
To fry the eggs, fill a wok one-third full with the oil. Heat to 180C over medium high heat.
Add eggs and deep-fry for 4 mins or until golden and blistered. Drain on paper towel.
Halve eggs and arrange on a serving plate.
Drizzle generously with warm chilli caramel. Top with the green shallot, basil, fried shallot and chilli.

Turkish Shakshouka Baked Eggs & Toast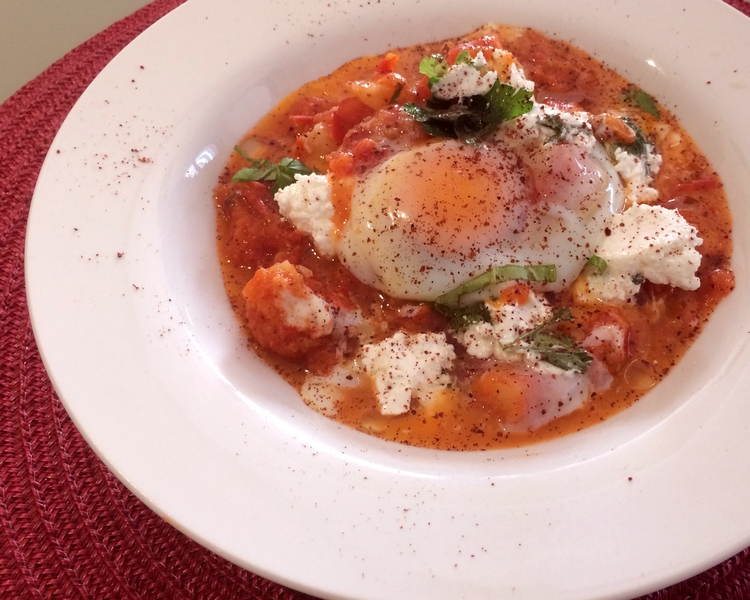 Serves 2-3.
Prep & Cooking 50 mins.

Ingredients:
1 Small Brown Onion
2 Cloves Garlic
1 Fresh Long Red Chilli
1/4-1/2 tsp Dried Chilli Flakes
6 Medium Vine Ripened Tomatoes (900g)
1 tbsp Olive Oil
2 tsp Ground Cumin
4 Eggs
1/2 Loaf Turkish Bread (200g)
1 tbsp Olive Oil, plus extra
60g Persian Fetta Cheese
1/2 tsp Sumac
1/3 Cup Loosely packed fresh flat-leaf parsley
1 Potato, peeled and diced
Instructions:
Peel and finely chop onion and garlic. Thinly slice chilli. Coarsely chop tomatoes.
Heat oil in a large ovenproof frying pan (or you can transfer the ingredients to a ceramic dish for the broiling).
Cook onion and fresh chilli over low heat, stirring until soft.
Add garlic, chilli flakes and cumin. Cook, stirring, until fragrant.
Stir in tomato and diced potato. Simmer, covered for 20 mins.
Preheat oven to 180C.
Continue simmering uncovered for about 10 mins or until sauce is thick. Season to taste. Turn off heat.
Make four indents in the hot tomato mixture with the back of a spoon.
Break 1 egg into a cup then slide the egg into an indent. Repeat for the 3 remaining eggs.
Transfer pan to the oven. Bake until egg whites are set (about 10-12 mins).
Meanwhile, brush bread with olive oil and place them on an oven tray (or next to the eggs) for about 5 mins.
To serve, sprinkle egg mixture with crumbled cheese, sumac, finely chopped parsley and drizzle a little olive oil over the eggs. Serve with hot bread.

French Quiche Lorraine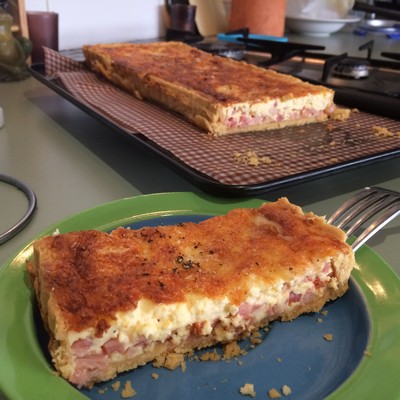 Ingredients (Pastry):
350g Plain Flour, sifted
200g Cold Butter, cut into pieces
2 Egg Yolks
2-3 tbsp Vodka or Brandy (if dough too crumbly)
Ingredients (Filling):
200g Lardon, unsmoked or smoked (or cut up streaked bacon)
50g Gruyere
200ml Creme Fraiche
200ml Double Cream
3 Eggs, well beaten
Pinch Ground Nutmeg
Instructions:
Grease a 25" fluted circular pan with baking spray (cooking oil in a spray can). Add a circle of baking paper to the base.
Start by making the pastry. In a food processor, place sifted flour and cold butter. Pulse until you achieve a mixture which resembles fine sand grains.
Place flour-butter mixture into a large bowl. Add the egg yolks and start forming a dough, adding 1-3 tbsp of vodka only as needed, until the dough becomes cohesive. Don't overwork the dough.
Make a smooth flattened disc. Cover dough directly with plastic wrap and let sit in the fridge for 30-60 mins.
Roll out the pastry until it is big enough to cover the base and sides of the fluted pan.
Ease the pastry into the pan and trim the edges so that the pastry sits slightly above the tin (it will shrink during baking). Press pastry into the fluted edges. Lightly prick the base with a fork then chill for at least 15-20 mins.
Preheat the oven to 200C.
Blind bake the pastry by placing baking paper over the pastry dough and ceramic spheres ontop during the initial baking process.
Bake for 15 mins. Then set aside paper and spheres, and return pastry to the oven for a further 4-5 mins until the pastry is pale golden. Set aside to cool completely. Lower the oven to 190C.
Meanwhile, prepare the filling. In a small frying pan, over medium-high heat, fry the lardons for a few minutes. Drain off any liquid that comes out and continue to cook until the lardons just start to colour. Remove from heat and drain lardons on paper towels.
Grate 1/4 of the cheese, then cut the rest into small 1cm cubes.
Once the pie shell has cooled, prepare the cream & egg mixture.
In a medium sized bowl, stir the creme fraiche to loosen it then slowly beat in the double cream. Mix in the beaten eggs and nutmeg.
Pour some of the cream mixture over over the bottom of the pastry case, just enough to cover it, then cover with the cheese cubes, fried lardons, remaining cream mixture.
Top with the grated cheese, then carefully place the pan in the oven.
Bake at 190C for about 25 mins, or until golden and just set (the centre should not feel too firm).
Let the quiche settle for 4-5 mins, then remove from the tin.
Serve warm or cold.

Hashbrowns
Makes 4

Ingredients:
500g (about 3-4) desiree potatoes, peeled and coarsely grated
50g Unsalted Butter, melted
1 tbsp vegetable oil
Instructions:
Place the grated potatoes within a cheese cloth and squeeze the cloth over a sink to remove as much liquid as possible. You may need to do this across a few cheese cloths to get all the water out.
Place the dryer grated potato into a bowl and mix in melted butter. Season with salt and pepper, and stir to combine.
Heat the oil in a frypan over medium heat.
Split 1/4th of the hashbrown mixture in your hand and make a small patty. Place the hashbrown patty into the hot frying pan. Flatten with a spoon.
Repeat with remaining mixture.
Cook for 3-4 mins each side until golden and cooked through. Serve hot!

Classic Banana Bread
Makes 1 Loaf

Ingredients:
3 or 4 Ripe Bananas, smashed
1/3 Cup Butter, melted
3/4 Cup Sugar
1 Egg, beaten
1 tsp Vanilla
1 tsp Baking Soda
Pinch of Salt
1 1/2 Cups Plain Flour
Instructions:
Preheat the oven to 350F / 175C.
In a large mixing, mix butter into the smashed bananas.
Mix the sugar, egg and vanilla.
sprinkle the baking soda and salt over the mixture and blend well.
Then mix in the flour (sifted).
Pour mixture in a greased 4x8" loaf pan.
Bake for 1 hour. Cool on a rack and then remove from the pan. Slice to serve.

Polenta, Carrot and Chilli Muffins (Tasty & Filling with a good kick)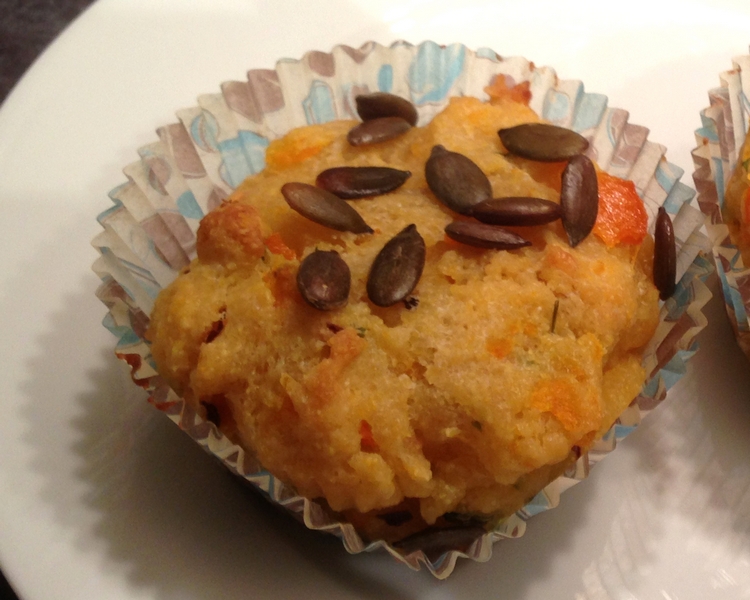 Makes 12

Ingredients:
2 1/2 Cups Self-Raising Flour
1 tbsp Caster Sugar
1/2 Cup Polenta
2 tsp Dried Chilli Flakes
2 tbsp Chopped Fresh Coriander Leaves
3/4 Cup Milk
1 Egg, lightly beaten
1/2 Cup Vegetable Oil
1/2 Cup Cooled Mashed Carrot
2 tbsp Pepitas
Softened buter, to serve
Instructions:
Preheat oven to 190C.
Grease a 12 hole muffin pan.
Combine sifted flour, sugar, polenta, chilli and coriander in a bowl. Make a well in centre.
In a separate bowl, blend milk, egg, oil and carrot.
Blend wet mixture into dry mixture until just combined. Season with salt and pepper.
Spoon mixture evenly between holes of prepared pan. Top with pepitas.
Bake for 22 to 25 mins or until golden and just firm to touch. Stand in pan for 5 mins.
Turn onto a wire rack to cool. Serve warm or cold with butter.

Corn & Jalapeno Muffins (Delicious light & moist corn muffins)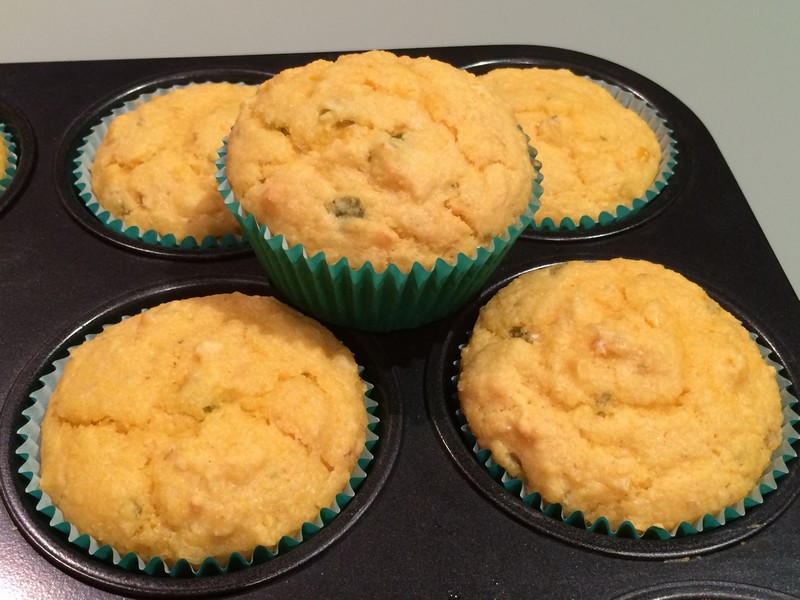 Makes 12

Ingredients:
1 Cup Flour
1 Cup Cornmeal (aka Polenta)
2 tbsp Sugar
1.5 tsp Baking Powder
1/2 tsp Baking Soda
1/4 tsp Salt
1 Can (14 Oz) Cream-style Corn
1/2 Cup Buttermilk
1 Egg
2 tbsp Butter, melted
1 Cup Jalapenos, chopped
Instructions:
Preheat oven to 375F and grease a 12 cup muffin tin.
In a medium bowl, combine sifted flour, cornmeal, baking powder, baking soda, and salt. Set aside.
In a separate large bowl, whisk together corn, buttermilk, egg, cooled melted butter, sugar and chopped jalapenos.
Add dry ingredients to wet ingredients. Mix only just until all ingredients are moistened.
Divide batter into the muffin cups and bake for 20 mins (or until a toothpick comes out clean). Be careful not to overcook.
Cool slightly, serve warm.

Parmesan & Caraway Muffins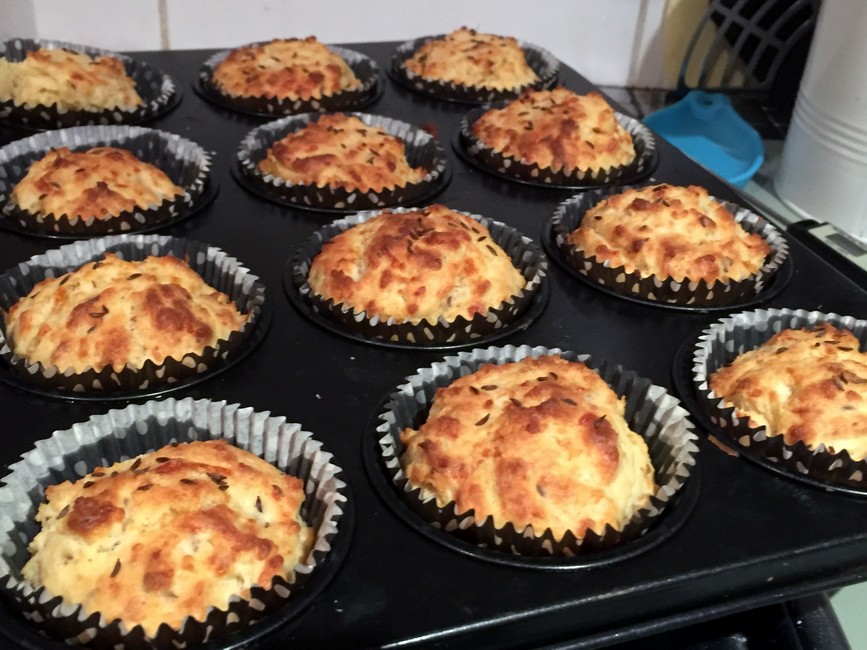 Makes 12

Ingredients:
2 Cups Self-Raising Flour, sifted
1 Cup Grated Parmesan
1 tsp Chicken stock powder
2 tsp + 1/2 tsp extra Caraway Seeds
125g Butter, melted
1/2 Cup Light Sour Cream
1/2 Cup Milk
2 Eggs, beaten
1/2 tsp Salt
Salt and pepper to taste
Instructions:
Preheat oven to 180C. Line a muffin tray with paper cup cases.
In a medium-sized bowl, combine sifted flour, 3/4 of the cheese, stock powder and caraway seeds.
In a separate bowl, blend melted butter, sour cream, milk. Then blend in eggs.
Gradually mix in the dry ingredients into the wet ingredients.
Spoon muffin batter into paper cup cases until 2/3rds full.
Top with remaining extra cheese, caraway seeds and salt.
Bake for 15-20 mins, until cooked through and golden.
Let sit for 5 mins then transfer to a wire rack to cool.

Zucchini parmesan and basil muffins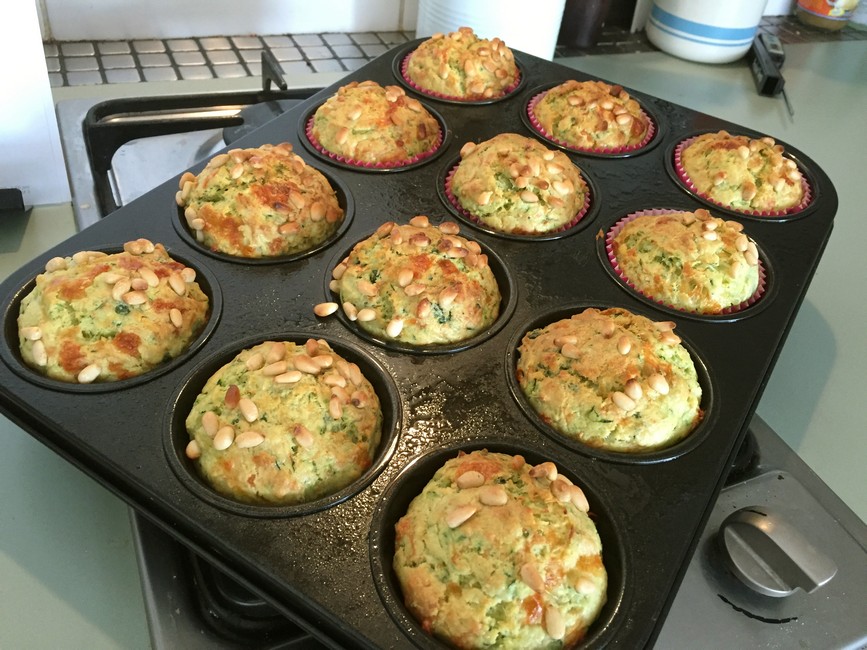 Makes 12

Ingredients:
1 Cup Plain Flour
1 Cup Wholemeal Flour
1 tbsp Baking Powder
1/2 tsp Salt
2/3 Cup Finely Grated Parmesan Cheese
1/4 Cup Chopped Basil Leaves
2/3 Cup Grated Cheddar Cheese
3/4 Cup Buttermilk
1/3 Cup Light Olive Oil
3 Eggs, room temperature
2 Small Zucchinis (~100g each), grated
1/4 Cup Pine Nuts, to garnish
Cayenne Pepper (optional), to garnish
Instructions:
Preheat oven to 190C. Line a muffin tray with paper cup cases.
In a medium-sized bowl, combine sifted flours, baking powder, salt.
In a separate bowl, blend buttermilk, olive oil and eggs. Add the grated zucchini, basil and two cheeses.
Gradually mix in the dry ingredients into the wet ingredients until just combined.
Spoon muffin batter into paper cup cases until 2/3rds full.
Top with remaining pine nuts and a little salt and cayenne pepper.
Bake for 25-30 mins, until cooked through and golden.
Let sit for 5 mins then transfer to a wire rack to cool.

Fuji Apple Muffins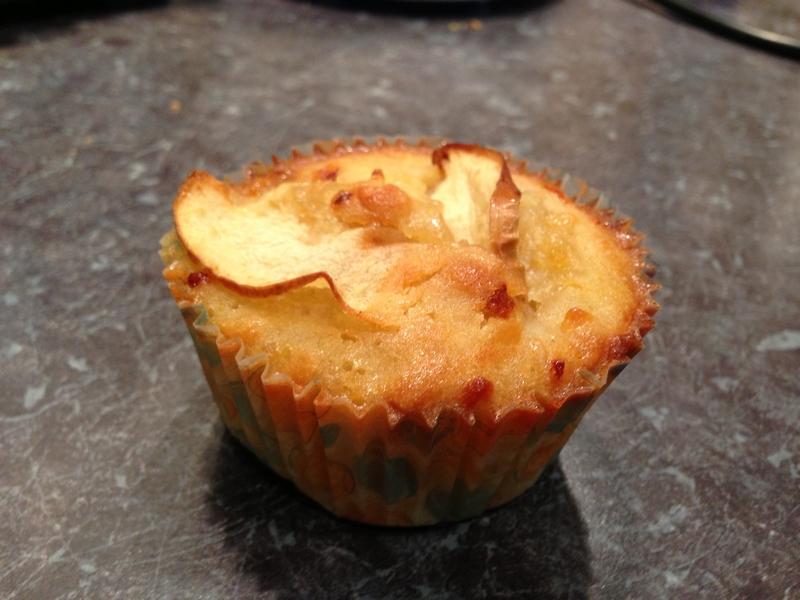 Makes 12

Ingredients:
300g (2 Cups) Self-Raising Flour
155g (3/4 Cup) Caster Sugar
50g (1/2 Cup) Rolled Oats
65g (3/4 Cup) Vintage Cheddar, Coarsely Grated
Pinch of Salt
125ml (1/2 Cup) Vegetable Oil
160ml (2/3 Cup) Milk
2 Eggs
1 Fuji Apple, coarsely grated
1 Fuji Apple, very thinly sliced
2 tsp honey warmed up until melted
Instructions:
Preheat oven to 180C.
Grease a full muffin tray (alternatively, use paper muffin cups).
Combine the flour (sifted), sugar, oats, cheddar and salt in a large bowl. make a well in the centre.
Separately, whisk the oil, milk, egg and grated apple in a large bowl.
Add the wet mixture to the dry mixture, and stir until just combined (do not overstir).
Spoon into the greased pan (or into the paper muffin cups).
Then place 2 slices of apple on each muffin (vertically, so that half of the slice is sticking out).
Use a pastry brush to brush the apple slices with a little of the warmed up honey.
Bake for 25mins or until a skewer comes out clean. Set aside in the pans for 5 mins to cool, then transfer muffins to a wire rack to cool completely.